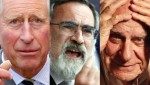 Concerning the duality, duplicity, doublethink and double-talk inherent in jewish identity and characterizing jewish power.
Prince Charles warns of rising antisemitism | UK news | The Guardian, 24 June 2013:
Prince Charles has warned that Britain was suffering from an "apparent rise in antisemitism, along with other poisonous and debilitating forms of intolerance", according to . He made the comments in a speech that praised the work of Lord Sacks, the outgoing chief rabbi, in promoting tolerance.

Charles said: "Running throughout your time as chief rabbi has been that all-important principle of which this country has long been an exponent – the principle of tolerance.

"I sometimes fear not enough recognition is given to the role of the faith communities in the life of our country in promoting such a critical principle, and I join with you, in mounting anxiety, at the apparent rise in antisemitism, along with other poisonous and debilitating forms of intolerance."
This principle of tolerance means in effect subordinating White interests to the interests of "minorities", with jews as the archetypical "minority". This tolerance is poisonous and debilitating to Whites.
In his speech Sacks was due to describe his 22 years as chief rabbi as the most exciting and fulfilling of his life. But he was also expected to issue a warning over the number of Jews who do not have a Jewish marriage, and the growth of so-called ultra-orthodoxy.
Doublethink means the power of holding two contradictory beliefs in one's mind simultaneously, and accepting both of them.
Charles Jacobs' Americans for Peace and Tolerance:
Promoting peaceful coexistence in an ethnically diverse America
From the sidebar:
"Unlimited tolerance must lead to the disappearance of tolerance. If we extend unlimited tolerance even to those who are intolerant, if we are not prepared to defend a tolerant society against the onslaught of the intolerant, then the tolerant will be destroyed, and tolerance with them. […] We should therefore claim, in the name of tolerance, the right not to tolerate the intolerant."

– Sir Karl Popper
The quote continues:
We should claim that any movement preaching intolerance places itself outside the law, and we should consider incitement to intolerance and persecution as criminal, in the same way as we should consider incitement to murder, or to kidnapping, or to the revival of the slave trade, as criminal.
Karl Popper on Jewish nationalism and cosmopolitanism:
Popper's ever present fear of anti-Semitism and his refusal to see Judaism as compatible with cosmopolitanism raise important questions as to the realisable limits of the cosmopolitan ideal. His inability to integrate an understanding of Jewishness in his cosmopolitan political ideal resulted in his strong opposition to Zionism and the state of Israel.
Popper's The Open Society and Its Enemies inspired his student, George Soros. Popper saw "open society" as synonymous with "liberal democracy".
Contrast jewish double-talk about principles with a quintessentially White attitude:
I disapprove of what you say, but I will defend to the death your right to say it.
John Derbyshire cites Joe Sobran on jewish power in Be Nice, or We'll Crush You by:
To your next point (I am working from the bottom up again) that my professed fear of ticking off Jews is some kind of affectation or pose, I can only assure you that this is not so. Almost the first thing you hear from old hands when you go into opinion journalism in the U.S. is, to put it in the precise form I first heard it: "Don't f*ck with the Jews." (Though I had better add here that I was mixing mainly with British expats at that point, and the comment came from one of them. More on this in a moment.)

Joe Sobran expressed it with his usual hyperbole: "You must only ever write of us as a passive, powerless, historically oppressed minority, struggling to maintain our ancient identity in a world where all the odds are against us, poor helpless us, poor persecuted and beleaguered us! Otherwise we will smash you to pieces."
Jews have power and use it to punish those they perceive as enemies. This is what they call "promoting tolerance" and "combating hate".
The podcast will be broadcast and available for download on Tuesday at 9PM ET.
Podcast: Play in new window | Download