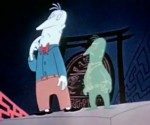 Concluding commentary on Ruth Benedict and Gene Weltfish's The Races of Mankind:
Race prejudice isn't an old universal "instinct." It is hardly a hundred years old. Before that, people persecuted Jews because of their religion-not their "blood"
Jews have been treated differently because they are different, they demand to be treated differently. Their ancient cover story, which is a lie, is that the difference is just religion. Jewishness is a racial identity in the sense it is inherited, that there are distinct jewish blood lines. Jews as a group are are biologically distinct from other groups.
They will think we were crazy. "Why should race prejudice have swept the western worid," they will say, "where no nation was anything but a mixture of all kinds of racial groups? Why did nations just at that moment begin talking about 'the racial purity' of their blood? Why did they talk of their wars as racial wars? Why did they make people suffer, not because they were criminals or double-crossers, but because they were Jews or Negroes or non-Nordic?"
The same reason any group of people does anything. They think it's the RIGHT thing to do, they have different ideas WHY it is RIGHT. Some think in universal terms, others more particularist. The example here is that a variety of deceitful arguments – based on "science", religion, etc – have been used to convince people that the RIGHT way was the way that was best for those who were afraid of being excluded.
The Russian nation has for a generation shown what can be done to outlaw race prejudice in a country with many kinds of people. They did not wait for people's minds to change. They made racial discrimination and persecution illegal.
Reply to an Inquiry of the Jewish News Agency in the United States:
In the U.S.S.R. anti-semitism is punishable with the utmost severity of the law as a phenomenon deeply hostile to the Soviet system. Under U.S.S.R. law active anti-semites are liable to the death penalty.

J. Stalin

January 12, 1931
No part of the Russian program has had greater success than their racial program.
Yet when the USSR collapsed in 1991 it divided along racial/ethnic lines.
What Is Being Done?

In the United States a considerable number of organizations are working for democratic race equality.
Benedict and Weltfish dedicate 4-5 pages to describing the organized efforts to impose their anti-"racist" ideology on others.
The Rosenwald Foundation has sponsored southern Negro schools, elementary, high school, and college, in order to make up for the deficiencies of southern Negro education.
THE CHURCHES

. . . race superiority or inferiority are un-Christian
COMMISSION ON INTERRACIAL COOPERATION
Some information about the CIC. Commission on Interracial Cooperation, Wikipedia:
Will W. Alexander, pastor of a local white Methodist church, was head of the organization
was formed in the aftermath of violent race riots that occurred [in 1917]
In spite of its official "interracial" title, the commission was formed primarily by liberal white Southerners.
African Americans and whites had meetings to confer the African American's problems
Commission on Interracial Cooperation, NCpedia:
with support from the Julius Rosenwald Fund
Julius Rosenwald, Wikipedia, born in 1862 to a jewish immigrant couple:
He established his Rosenwald Fund in 1917 for "the well-being of mankind."
his fund donated over 70 million dollars to public schools, colleges and universities, museums, Jewish charities and black institutions
Back to The Races of Mankind:
BY UNIONS
when Negroes were first placed on machines previously manned by white operators, a work stoppage shut down a whole section of the Packard plant. R. J. Thomas the president of the [United Auto Workers] union, ordered the white strikers to return to work or suffer loss of union membership and employment. Within a few hours the strikers were back, with the recently promoted Negroes still at their machines.
Where "science" and argument failed the anti-Whites used threats and sanctions.
THE GOVERNMENT
The justification here was to loosen racial restrictions to maximize the workforce for the war effort, in effect not letting a good crisis go to waste.
COMMUNITY ACTIVITIES
Beaumont, Texas, similar effective action was not undertaken and a serious riot occurred.
JUST FOLKS
In the most disastrous of recent riots in Detroit, a number of obscure bystanders performed heroic actions.
From a History Channel program, Stories from the Road to Freedom, 2013:
In 1943, there were 68 racial confrontations at U.S. military bases.
Naturally. The consequences of compulsory integration were and still are disastrous and destructive for Whites. The anti-"racist" thrust in 1943 was to champion integration. The thrust today has shifted to demonizing any Whites who ever opposed or now advocate ending it.
The conclusion of The Races of Mankind sums up its purpose:
The Challenge

With America's great tradition of democracy, the United States should clean its own house and get ready for a better twenty-first century. Then it could stand unashamed before the Nazis and condemn, without confusion, their doctrines of a Master Race. Then it could put its hand to the building of the United Nations Organization, sure of support from all the yellow and black races where the war was fought, sure that victory in this war is to be in the name, not of one race or another, but of the universal Human Race.
This was a lecture about what "we" should do, based on lies and wishful thinking. This characteristically jewish shaming and guilt-tripping has only gotten worse as Whites have ceded power in the name of equality. The equalization of non-Whites, non-Europeans, has produced ever more explicit efforts to boost non-Whites. It has all come at the expense of Whites.
As mentioned in Race and Fraud: Ruth Benedict and Gene Weltfish, United Productions of America (UPA) produced an animated cartoon based on the pamplet 1945/1946. Two versions are available on YouTube. The Brotherhood of Man – Post-WWII Animated Cartoon Against Prejudice and Racism (1946) is in color. The Brotherhood of Man (1946) is in black and white. A credit screen announces:
SPONSORED AS A CONTRIBUTION TO THE AMERICAN PEOPLE BY THE UAW-CIO
There are 4 characters:
narrator – calm, confident, all-knowing "scientist" (jewish/communist anthropologist)
White guy – naive optimistic rube, target of the propaganda
green devil – paranoid, nervous, the scapegoat
non-Whites – non-entity stereotypes, inert except to cheer on White naivete
Narrator: Everyone has his own special dream about what the world's going to be like in the future, but we all know it's steadily shrinking. One of these days we're going to wake up and find the people and places we used to just read about are practically in our own back yard.

White rube: It's happened!

Green devil: Uh unh, I don't like the looks of this.

White rube: Why not? It's going to be wonderful!

Green devil: Ahh, it'll never work. We can't get along with those people. They're too different.

White rube: We'll get along. We've got to. The future of civilization depends on brotherhood!

Non-Whites: YAYYYYYYY!
The cartoon boils the jewish anti-"racist" fraud down to its essence: Disingenuous propaganda, aimed directly at Whites, intended to convince us, even with outright lies, that we must share our societies with everyone else, and to oppose this is stupid, crazy, or evil.
Like the pamphlet, the cartoon concludes with an appeal to utopian fantasy – if "we" give "everyone" an "equal chance", "then we can all go forward together". The burden is placed on "we" Whites to subordinate our own best interests for benefit of everyone else.
Seventy years on, we know how this vision turns out. There is little pretense any more that "everyone" is or even should be trying to move forward together. There is no equality. The negative consequences which inevitably arise when this false ideological belief meet biological reality are constantly and consistently blamed on Whites.
Margaret Mead's obituary for Ruth Benedict in American Ethnography Quasimonthly, 1948:
The small pamphlet, Races of Mankind, which she wrote with Gene Weltfish, went into millions of copies, was translated into film, and film script and cartoon forms, and has proved perhaps the most important single translation into genuine popular education of the many years of careful research on race differences to which anthropologists have made a major contribution.
I couldn't fit this into the podcast, but I think it's worth considering this epitome of jewish/communist fraud concerning race that we've examined in detail for these past four installments, and contrasting it with White anthropolgy, before it was derailed, as typified by this article, also titled The Races of Mankind, written by Edward Tylor and published in the July 1881 issue of Popular Science Monthly.
These excerpts illustrate a clear and objective understanding of race, sixty years before the WWII-era propaganda calculated to sow doubt and confusion about it:
ANTHROPOLOGY finds race-differences most clearly in stature and proportions of limbs, conformation of the skull and the brain within, characters of features, skin, eyes, and hair, peculiarities of constitution, and mental and moral temperament.

In comparing races as to their stature, we concern ourselves not with the tallest or shortest men of each tribe, but with the ordinary or average-sized men who may be taken as fair representatives of their whole tribe.
It thus appears that a race is a body of people comprising a regular set of variations, which center round one representative type. In the same way a race or nation is estimated as to other characters.

The people whom it is easiest to represent by single portraits are uncivilized tribes, in whose food and way of life there is little to cause difference between one man and another, and who have lived together and intermarried for many generations.
It is not enough to look at a race of men as a mere body of people happening to have a common type or likeness. For the reason of their likeness is plain, and indeed our calling them a race means that we consider them a breed whose common nature is inherited from common ancestors. Now, experience of the animal world shows that a race or breed, while capable of carrying on its likeness from generation to generation, is also capable of varying.
As the influence and power of jews increased, jewish views on race came to prevail. False uncertainty transformed gradually into outright condemnation. Social Evolutionism, Anthropological Theories – Department of Anthropology – The University of Alabama:
[Marvin] Harris called Morgan and Tylor racists (1968:137,140), but they were some of the great thinkers of their time. Today, students continue to learn Tylor's definition of culture and all cultural anthropology classes discuss Morgan's stages of development. These men got the ball rolling in terms of anthropological theory.
Marvin Harris is on the Jews in Anthropology short list.
The podcast will be broadcast and available for download on Tuesday at 9PM ET.
Podcast: Play in new window | Download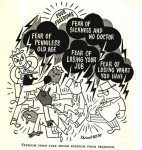 More on Ruth Benedict and Gene Weltfish's The Races of Mankind:
After World War I the Germans and the Czechs along the border between the two countries intermarried so often that the Germans of this section got to look like Czechs and the Czechs began to speak German. But this did not make the two countries love each other.

People of every European nation have racial brothers in other countries, often ones with which they are at war. If at any one moment you could sort into one camp all the people in the world who were most Mediterranean, no mystic sense of brotherhood would unite them. Neither camp would have language or nationality or mode of life to unite them.
The same applies to mankind as a whole – yet anti-"racists" argue in favor of a mystic sense of brotherhood uniting all of mankind.
Pretending race doesn't exist doesn't make race go away.
The movements of peoples over the face of the earth inevitably produce race mixture and have produced it since before history began. No one has been able to show that this is necessarily bad.
They know race mixing is not inevitable, which is why they take the trouble to argue and propagandize in favor of it. They wish to thwart the natural human tendency to discriminate and separate.
But, as far as we know, there are no immutable laws of nature that make racial intermixture harmful.
Harmful for who?
No immutable laws of nature make extinction harmful. Group identity, self-awareness, morality – group judgment of good and bad – is what gives words like "harmful" meaning.
The thesis of Arthur Gobineau's The Inequality of Human Races is that each society throughout history has been an expression of a racial/national core, and that their success leads to conquest, then mixing, then collapse.
Racial Superiorities and Inferiorities
to prove superiority … you have to test abilities
Science therefore treats human racial differences as facts to be studied and mapped. It treats racial superiorities as a separate field of investigation; it looks for evidence. When a Nazi says "I am a blue-eyed Aryan and you are non-Aryan," he means "I am superior and you are infenor." The scientist says: "Of course. You are a fair-haired, long-headed, tall North European (the Anthropological term is Nordics, not Aryans), and I am a dark-haired, round-headed, less tall South European. But on what evidence do you base your claim to be superior? That is quite different."

Race prejudice turns on this point of inferiority and superiority. The man with race prejudice says of a man of another race, "No matter who he is, I don't have to compare myself with him. I'm superior anyway. I was born that way."
Anti-"racism" turns on this point of inferiority and superiority, playing on insecurity, fear of exclusion. A "racist" who says "born different" is saying superior/inferior is beside the point, though having a sense of pride in one's own group is perfectly normal and natural.
Pages 16 and 17 of the pamplet are missing. This portion of the pamphlet discusses IQ. The tail end of it is on page 18 (italics in original):
The white race did badly where economic conditions were bad and schooling was not provided, and Negroes living under better conditions surpassed them. The differences did not arise because people were from the North or the South, or because they were white or black, but because of differences in income, education, cultural -advantages, and other opportunities.
From the page on Gene Weltfish at Wikipedia:
The most controversial statement was the mention of a set of IQ tests administered to the American Expeditionary Force (AEF) in World War I, in which "Southern Whites" scored below "Northern Negroes". Weltfish and Benedict argued that "The difference….[arose] because of differences of income, education, cultural advantages, and other opportunities," since southern schools spent only a fraction of the amount spent on education in the North. This was the statement that led to a general outcry in the military. The bulk of the pamphlet was dedicated to explaining that perceived differences in group mental abilities vary in accordance with social and cultural factors, not biological ones.
The heritability of IQ and racial differences in IQ are well established. The controversy over this comes entirely from anti-"racists" who simply want to deny and suppress these facts. See, for example, The Bell Curve and the "debate" it spawned.
A large portion of the anti-"racist" fraud, from 1943 through to this day, having to do with IQ and other racial differences, is conflating overlap with equality. It is a kind of hand-waving – a deliberate attempt to induce confusion and minimize differences in norms and averages by pointing to overall variance. A specific example has come to be known as the Lewontin fallacy, which I'll discuss in more detail in a future installment.
Character Not Inborn

The second superiority which a man claims when he says, "I was born a member of a superior race/' is that his race has better character. The Nazis boasted of their racial soul. But when they wanted to make a whole new generation into Nazis they didn't trust to "racial soul"; they made certain kinds of teaching compulsory in the schools, they broke up homes where the parents were anti-Nazi, they required boys to join certain Nazi youth organizations. By these means they got the kind of national character they wanted. But it was a planned and deliberately trained character, not an inborn "racial soul."
Race prejudice is, after all, a determination to keep a people down, and it misuses the label '"inferior" to justify unfairness and injustice. Race prejudice makes people ruthless; it invites violence. It is the opposite of "good character" as it is defined in the Christian religion— or in the Confucian religion, or in the Buddhist religion, or the Hindu religion, for that matter.

Civilization Not Caused by Race

History proves that progress in civilization is not the monopoly of one race or subrace. When our white forebears in Europe were rude stone-age primitives, the civilizations of the Babylonians and the Egyptians had already flourished and been eclipsed. There were great Negro states in Africa when Europe was a sparsely settled forest. Negroes made iron tools and wove fine cloth for their clothing when fair-skinned Europeans wore skins and knew nothing of iron.

When Europe was just emerging from the Middle Ages, Marco Polo visited China and found there a great civilization, the like of which he had never imagined. Europe was a frontier country in those days compared with China.
The United States is the greatest crossroads of the world in all history. People have come here from every race and nation, and almost every race in the world is represented among our citizens. They have brought with them their own ways of cooking food, so ihat our "American" diet is iudebted to a dozen peoples. Our turkey, com, and cranberries come from the Indians. Our salads we borrowed from the French and Italians. Increasingly in recent years we have enriched our tables with soups from Russia, vegetables from Italy, appetizers from the Scandinavian countries, seafoods from the Mediterranean lands, chile and tortillas from Mexico, and so on almost endlessly.
THE FUTURE OF RACE PREJUDICE

NEVERTHELESS there is race prejudice in America and in the world. Race prejudice isn't an old universal "instinct." It is hardly a hundred years old. Before that, people persecuted Jews because of their religion-not their "blood"; they enslaved Negroes because they were pagans-not for being black.

Looking back now, modems are horrified at all the blood that was shed for centuries in religious conflicts. It is not our custom any more to torture and kill a man because he has a different religion. The twenty-first century may well look back on our generation and be just as horrified. If that century builds its way of life on the Atlantic Charter-for the whole worid-our era will seem a nightmare from which they have awakened. They will think we were crazy. "Why should race prejudice have swept the western worid," they will say, "where no nation was anything but a mixture of all kinds of racial groups? Why did nations just at that moment begin talking about 'the racial purity' of their blood? Why did they talk of their wars as racial wars? Why did they make people suffer, not because they were criminals or double-crossers, but because they were Jews or Negroes or non-Nordic?"

We who are living in these troubled times can tell them why. Today weak nations are afraid of the strong nations; the poor are afraid of the rich; the rich are afraid they will lose their riches. People are afraid of one another's poHtical or economic power, they are afraid of revenge for past injuries, they are afraid of social rejection. Conflict grows fat on fear. And the slogans against "inferior races" lead us to pick on them as scapegoats. We pin on them the reason for all our fears.

Race Prejudice Not Inevitable

Freedom from fear is the way to cure race prejudice.
Hello from the 21st century. There are still weak and strong, rich and poor. Today the anti-"racists" are in charge and they scapegoat "racists".
Atlantic Charter, Wikipedia:
The Atlantic Charter was a pivotal policy statement first issued in August 1941 that early in World War II defined the Allied goals for the post-war world. It was drafted by Britain and the United States, and later agreed to by all the Allies. The Charter stated the ideal goals of the war: no territorial aggrandizement; no territorial changes made against the wishes of the people; restoration of self-government to those deprived of it; free access to raw materials; reduction of trade restrictions; global cooperation to secure better economic and social conditions for all; freedom from fear and want; freedom of the seas; and abandonment of the use of force, as well as disarmament of aggressor nations.
The podcast will be broadcast and available for download on Tuesday at 9PM ET.
Podcast: Play in new window | Download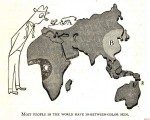 More on Ruth Benedict and Gene Weltfish's The Races of Mankind:
BLOOD THE SAME

For ages men have spoken of 'blood relations" as if different peoples had different blood. Some people have shouted that if we got into our veins the blood of someone with a different head shape, eye color, hair texture, or skin color, we should get some of that person's physical and mental characteristics.

Modern science has revealed this to be pure superstition. All human blood is the same, whether it is the blood of an Eskimo or a Frenchman, of the "purest" German "Aryan" or an African pygmy— except for one medically important difference. This medical difference was discovered when doctors first began to use blood transfusion in order to save life. In early attempts at transfusion it was discovered that "agglutination" or clumping together of the red cells sometimes occurred and caused death. Gradually investigators learned that there are four types of blood, called O, A, B, and AB, and that although blood typed O can be mixed successfully with the other three, none of these can be mixed with one another without clumping.

These four types of blood are inherited by each child from its forebears. But whites, Negroes, Mongols, and all races of man have all these blood types. The color of their skin does not tell at all which blood type they have. You and an Australian bush-man may have the same blood type.
For ages the use of blood as a metaphor for inheritance was a reasonable, intuitive understanding of the mechanics.
Rather than mocking this as "pure superstition", and falsely insisting that "all human blood is the same", someone interested in making an honest argument concerning blood and heritability based on science could have cited August Weismann's germ plasm theory ("inheritance only takes place by means of the egg and sperm cells") and the Weismann barrier ("other cells of the body—somatic cells—do not function as agents of heredity"), which had been known since c1900.
Ongoing scientific inquiry, known as genetics, had by 1943 further refined the understanding of the mechanism of heritability. Among the more prominent geneticists were the "purest" German "Aryans", scientists like Alfred Ploetz and Fritz Lenz.
The blood intuition was valid in the sense that head shape and other heritable traits are encoded within our bodies. If the "blood" (which we now understand is DNA) could be changed then the expression of those traits would change. A more realistic example is what happens when one person "mixes their blood" with another to produce children.
Benedict and Weltfish minimize blood differences, ignoring what was understood about the relation to race even in 1943: that the distribution of blood types among races is distinctive.
As the American Red Cross puts it, even in today's extreme anti-"racist" zeitgeist:
Different ethnic and racial groups … have different frequency of the main blood types in their populations.
There are other significant facts about blood type and race, some understood in 1943 and others which have come to light since. RH- is entirely a White trait, highest in the Basque at 20-35%, 15% among Europeans in general, near 0% in everyone else. Amerindians and Australoids are nearly 100% O+. In addition to A, B, AB, and O, there are many less common, lesser known blood subtypes which are unique to certain ethnic groups.
If you're European there's a good chance you have some combination of A, B, or RH- blood, and in this case the blood of an Australian bushman is almost certainly incompatible.
The best donor for blood or organs are those most biochemically compatibile with the recipient. This is more likely to be a close relative. The more different genetically, the less likely they are compatible.
Having more people like yourself around you increases the likelyhood of blood/organ compatibility. Diversity and race mixing reduces that likelyhood. When it comes to blood, diversity is plainly not a strength.
Returning to The Races of Mankind:
COLOR

Finally, let us take skin color, the most noticeable of the differences between peoples. Few traits have been used as widely to classify people. We all talk about black, white, and yellow races of man.
Recently scientists found that skin color is determined by two special chemicals. One of these, carotene, gives a yellow tinge; the other, melanin, contributes the brown.
People of browner complexions simply have more melanin in their skin, people of yellowish color more carotene. It is not an all-or-nothing difference; it is a difference in proportion. Your skin color is due to the amount of these chemicals present in the skin.
So the visible difference in skin color is caused by an underlying chemical difference, which ultimately reflects a biological, genetic heritable difference. The key, here again, is that races exhibit different distributions, different proportions.
In other words it is evidence in favor of the reality and significance of race, not against it.
HOW ARE RACES CLASSIFIED?

THE three primary races of the world have their strongest developments in areas A, B, and C on the map on page 9. In these parts of the world most of the inhabitants not only have the same skin color but the same hair texture and noses. A is the area of the Caucasian Race, B of the Mongoloid Race, C of the Negroid Race.

The Caucasian Race inhabits Europe and a great part of the Near East and India. It is subdivided in broad bands that run east and west: Nordics (fair-skinned, blue-eyed, tall, and long- headed) are most common in the north; Alpines (in-between skin color, often stocky, broad-headed) in the middle; Mediterraneans (slenderer, often darker than Alpines, long-headed) in the south. The distribution of racial subtypes is just about the same in Germany and in France; both are mostly Alpine and both have Nordics in their northern districts. Racially, France and Germany are made up of the same stocks in just about equal proportions.

American Indians are Mongoloid, though they differ physically both among themselves and from the Mongols of China.

The natives of Australia are sometimes called a fourth primary race.
In the map A is centered on Sweden, B on China, and C on Congo. Benedict and Weltfish continue to minimize the differences, both by literally minimizing their geographic extent, and by glossing over the many different shades, eg. the very black skin in India and Australia.
It is a willful blindness, interesting in contrast to illustrator Ad Reinhardt's later Black paintings, the "art" of which was in the appreciation of the significance of subtle, near imperceptible shades of black.
This portion of the pamphlet presents a general understanding of race that could just as well have been written by any contemporary proponent of race, eugenics or racial hygiene. Benedict and Weltfish acknowledge the existence of "racial subtypes" (Nordic, Alpine, Med) amongst Europeans, and the difference of opinion over the number of major races – without using these points as arguments against race. Instead they cite it to steal for themselves a measure of sciency credibility in support their ulterior anti-"racist" agenda, specifically to prepare the ground for the next issue, which is at the very heart of that agenda:
THERE IS NO JEWISH "RACE".

Aryans, Jews, Italians are not races. Aryans are people who speak Indo-European, "Aryan" languages. Hitler used the term in many ways— sometimes for blond Europeans, including the Scandinavian; sometimes for Germans, whether blond or brunet; sometimes for all who agreed with him politically, including the Japanese. As Hitler used it, the term "Aryan" had no meaning, racial, linguistic, or otherwise.

Jews are people who acknowledge the Jewish religion. They are of all races, even Negro and Mongolian, European Jews are of many different biological types; physically they resemble the populations among whom they live. The so-called "Jewish type" is a Mediterranean type, and no more "Jewish" than the South Italian. Wherever Jews are persecuted or discriminated against they cling to their old ways and keep apart from the rest of the population and develop so-called "Jewish" traits. But these are not racial or "Jewish"; they disappear under conditions where assimilation is easy.
I don't know about Hitler's use of the term Aryan. Perhaps someone who does can leave a comment about it. The arguments this pamphlet makes where Hitler is concerned are a kind of fallacy, increasingly common since WWII, known as Reductio ad Hitlerum.
Beyond Hitler, they're deliberately obfuscating reality which is not difficult to explain. Aryan is not simply linguistic, no more than jew is simply a religion. Aryans were a people who left traces of their language, artifacts, and genetics among those they conquered. Jewish traits are racial in the sense that they are heritable, genetically based.
Benedict and Weltfish misrepresent the cause and effect of jewish distinctiveness and "persecution", which is more objectively (scientifically) understood in terms of mutual alienation, not the one-sided narrative favorable to jews that they present.
Jewish genetic differences arose and were maintained by jews discriminating and separating themselves from their host populations, on the whole refusing to intermarry. Jews don't assimilate, otherwise they would long ago have ceased to exist. The core of jewry is utterly hostile to assimilation of jews to their hosts. Instead they organize and demand and generally get special rights and privileges for themselves, causing the host to assimilate to their desires and way of seeing things. Even supposedly assimilated jews lend their hands to this effort.
Religion is one component, but the key component of jewish identity is biological, not ideological. It is an identity passed from parents to children, whether their children want it or not.
Harlan Schulke and Carolyn Yeager had an insightful discussion of jewish identity in the first half of How the translator affects meanings in the Protocols of Zion.
Benedict and Weltfish continue:
Italians are a nationality, Italians are of many different racial strains; the "typical" South Italian is a Mediterranean, more like the Spaniard or the Greek or the Levantine Jew than the blond North Italian. The Germans, the Russians, and all other nations of Europe are nations, not races.
This is argument by conflation and confusion. The classic meaning of "nation" is roughly equivalent to "racial strain". The use of "nation" as a synonym for country or state causes misunderstanding. The existence of several "racial strains" within the borders of a single country doesn't mean that "racial strain" isn't racial in nature.
This disingenous argument leads directly into the next:
Racial Mixture

As far back in time as the scientist can go he finds proof that animals and men moved about in the world. There were different kinds of animals, and many of them went great distances. But wherever they went, the different kinds could not breed together. A tiger cannot mate with an elephant. Even a fox and a woif cannot mate with each other. But whenever groups of people have traveled from one place to another and met other people, some of them have married and had children.
Lions and tigers are capable of breeding. Likewise wolves and dogs. Left to themselves, in nature, they generally don't. Primates and even humans, left to ourselves, demonstrate a similar, general aversion to mixing. The Aryan conquerers in India codified the aversion as caste. In the US there were laws against miscegenation. An objective scientist, who could set his "race"/anti-"racist" agenda aside, would recognize both the capability of mixing and tendency to discriminate and compete as a perfectly natural step toward speciation.
Racial strains which set their "race" agenda aside will be outcompeted by those who don't. The key understanding here is that among man, argument and communication are part of the fitness equation of the competition. Lying and fraud and propaganda and psychological warfare are all part of the fitness equation.
We are used to thinking of Americans as mixed. All of us have ancestors who came from regions far apart. But we think that the English are English and the French are French. This is true for their nationality, just as we are all Americans. But it is not true for their race. The Germans have claimed to be a pure German race, but no European is a pure anything. A country has a population. It does not have a race. If you go far enough back In the populations of Europe you are apt to find all kinds of ancestors: Cro-Magnons, Slavs, Mongols, Africans, Celts, Saxons, and Teutons.
Yes, Whites are diverse in the true sense of the word.
The crime commited by the Germans, from a jewish point of view, was to recognize jews as aliens, not Germans.
There is nothing inherently wrong with purity as an ideal, nor with the notion that a dilution of purity is something to be avoided. These are normal, traditional values. Anti-"racists" succeeded in flipping these values and today promote degenerate, destructive mixing as the ideal, while pathologizing purity.
The podcast will be broadcast and available for download on Tuesday at 9PM ET.
Podcast: Play in new window | Download