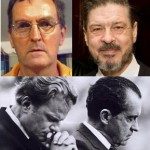 Double-talk and the dual nature of jewish identity fuels White doublethink – ignorance and denial of jewish power.
More from John Derbyshire's Be Nice, or We'll Crush You, 28 Feb 2007:
The place of Jews in modern American conservatism is a deep and fascinating story, with of course the conversion of the neocons at its center. You have to bear in mind the overwhelming dominance of Jews in every kind of leftist movement in the U.S. until about 30 years ago. Yuri Slezkine has the astonishing numbers. (Did you know that of the four student protesters shot by National Guardsmen at Kent State in 1970, three were Jewish? So says Slezkine, anyway. If you take four people at random from the U.S. population, the chance that three or more of them will be Jewish, given the most generous estimate of the proportion of Jews in the population, is worse than one in four thousand.)

In any case, it was a great achievement, and a great boost, for American conservatism to have peeled off a platoon of articulate, energetic intellectual heavyweights from the great socialistic mass of American Jewry.

Generally speaking—and I certainly include myself here—American conservatism is proud of its Jews, and glad to have them on board. Not that there aren't some frictions, particularly on mass immigration, the mere contemplation of which just seems to make Jews swoon with ecstasy (American Jews, at any rate. Israeli Jews have a different opinion…). MacDonald gives over a whole chapter of The Culture of Critique to the Jewish-American passion for mass immigration.
Derbyshire recognizes jews as distinct from Whites, and sees the "ecstasy" with which they push genocidal levels of immigration, yet he mischaracterizes this as suicide.
Joe Sobran, 'For Fear of the Jews', address at an IHR conference in 2002:
In my thirty years in journalism, nothing has amazed me more than the prevalent fear in the profession of offending Jews, especially Zionist Jews.

The fear of the label anti-Semitic is a fear of the power that is believed to lie behind it: Jewish power. Yet this is still pretty much unmentionable in journalism. It's rather as if sportswriters covering pro basketball were prohibited from mentioning that the Los Angeles Lakers were in first place.

There has been a qualitative change that is downright eerie in American conservatism generally. The "fear of the Jews," to use the phrase so often repeated in the Gospel according to John, seems to have wrought a reorientation of the tone, the very principles, of today's conservatism. The hardy skepticism, critical intelligence, and healthy irony of men like James Burnham, Willmoore Kendall, and the young Buckley have given way to the uncritical philo-Semitism of George Will, Cal Thomas, Rush Limbaugh, and of course the later Buckley — men who will go to any lengths, even absurd and dishonorable lengths, to avoid the terrorizing label anti-Semite.

It was once considered "anti-Semitic" to impute "dual loyalty" to Jews — that is, to assert that most American Jews divide their loyalty between the United States and Israel. This is now passé. Today most politicians assume, as a matter of course, that Israel commands the primary loyalty of Jewish voters. Are they accused of "anti-Semitism" for doing so? Does this assumption cost them Jewish votes? Not at all! Dual loyalty nothing! Dual loyalty would be an improvement!
At the very heart of the jewish problem is the historic ability jews exhibit in passing – as German, as White, as "us". It plays on the host society's capacity for both fear and love. As jewish power becomes more obvious and overtly hostile, their "allies" try to find ways to cope.
Stockholm syndrome, Wikipedia:
Stockholm syndrome, or capture–bonding, is a psychological phenomenon in which hostages express empathy and sympathy and have positive feelings toward their captors, sometimes to the point of defending them. These feelings are generally considered irrational in light of the danger or risk endured by the victims, who essentially mistake a lack of abuse from their captors for an act of kindness.
Battered-person syndrome is an example of activating the capture–bonding psychological mechanism
Symptoms of Stockholm Syndrome:
In order for Stockholm syndrome to occur in any given situation, at least three traits must be present:

A severely uneven power relationship in which the captor dictates what the prisoner can and cannot do
The threat of death or physical injury to the prisoner at the hands of the captor
A self-preservation instinct on the part of the prisoner

Included in these traits are the prisoner's belief (correct or incorrect, it doesn't matter) that he or she cannot escape, which means that survival must occur within the rules set by the all-powerful captor; and the prisoner's isolation from people not being held by the captors, which prohibits any outside view of the captors from infringing on the psychological processes that lead to Stockholm syndrome.
Four decades ago the most powerful Whites in America regarded jewish power as a threat and expressed their fear of it, privately.
Billy Graham Responds to Lingering Anger Over 1972 Remarks on Jews, New York Times, 2002:
"They're the ones putting out the pornographic stuff," Mr. Graham said on the tape, after agreeing with Mr. Nixon that left-wing Jews dominate the news media. The Jewish "stranglehold has got to be broken or the country's going down the drain," he continued, suggesting that if Mr. Nixon were re-elected, "then we might be able to do something."

Finally, Mr. Graham said that Jews did not know his true feelings about them.

"I go and I keep friends with Mr. Rosenthal at The New York Times and people of that sort, you know," he told Mr. Nixon, referring to A. M. Rosenthal, then the newspaper's executive editor. "And all — I mean, not all the Jews, but a lot of the Jews are great friends of mine, they swarm around me and are friendly to me because they know that I'm friendly with Israel. But they don't know how I really feel about what they are doing to this country. And I have no power, no way to handle them, but I would stand up if under proper circumstances."
Nixon, who became friends with Mr Graham in the 1950s during his time as vice president in the Eisenhower administration
There is a worldwide jewish conspiracy. Jews have power. It is based in part on the ignorance of the masses and in part on intimidation of the White elite. Both parts are deliberately cultivated by jews and their allies.
The podcast will be broadcast and available for download on Tuesday at 9PM ET.
Podcast: Play in new window | Download