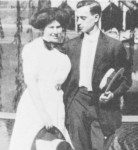 Nobody confessed to the murder of Mary Phagan. Nobody claimed to have witnessed it. The case against Leo Frank was based largely on circumstantial evidence.
In this installment the focus is on Leo Frank's behavior, and concerns testimony as to his character and reputation. Instead of putting someone else on trial, as Stephen Goldfarb and other jews have tried to do, we examine why Frank was put on trial.
Continuing our review of 100 Reasons Leo Frank Is Guilty, regarding the nervousness and contradictions by which he first called attention to himself.
38. Former County Policeman Boots Rogers, who drove the officers to Frank's home and then took them all, including Frank, back to the factory on the morning of April 27, said Frank was so nervous that he was hoarse — even before being told of the murder.
41. When Leo Frank accompanied the officers to the police station later on during the day after the murder, Rogers stated that Leo Frank was literally so nervous that his hands were visibly shaking.
Points 2 through 9 also refer to Frank's nerves and contradictions.
Points 11, 12 and 13 touch on the discrepancy between Frank's claim that he was in the office after Phagan's visit, and Monteen Stover's testimony that he wasn't. Frank eventually admitted he might have gone to bathroom, in the metal room, where other evidence and testimony indicated the murder had most likely occurred.
Point 14 mentions Frank's claim that after Phagan left he heard her speak with another girl, who was never identified.
Point 44, mentioned at the end of the previous installment, concerned the testimony of several young women and girls that Frank had made improper advances toward them. Point 98 is related:
98. Why did the Leo Frank defense team, consisting of some of the most skilled attorneys in the state, refuse to cross-examine 20 young women and girls who testified that Frank had a bad moral character? Under Georgia law, the prosecution was only allowed to use these witnesses' testimony to enter the general fact that Frank's character was bad. Under cross-examination, though, the defense could have forced the girls and women to give specific reasons and relate specific incidents that supported their opinion, and trip them up if they could. Why, then, did they not do so? The only reasonable answer: They knew Leo Frank's character, and they did not dare allow any specifics to go before the jury.
This line of argument also crosses over into Frank's marriage, his relationship and interaction with his wife.
86. Lucille Selig Frank, Leo Frank's wife, is known as a fiercely loyal spouse who passionately defended her husband against charges both criminal and moral, and stood by his side during his trial and appeals. There are some indications, however, that she may have early on during the Mary Phagan case believed that her husband had not been entirely faithful and had in fact killed Mary Phagan, probably believing it to be accidental. Long after her husband's death, she may have returned to those views.
The embedded image of Lucille captures an unpleasant-looking woman. In other photos her dark hair, round, chubby face, and chinese eyes bear a resemblence to Sonia Sotomayor.
The caption on the image, which hints at where the subsequent points are going, reads:
Mrs. Leo Frank in 1913: Is it conceivable that her 29-year-old husband, surrounded every working day by over 150 young women and teenage girls over which he had absolute authority, was unfaithful?
State's Exhibit J at Leo Frank's trial consisted of an affidavit by Minola McKnight, the Frank's black cook. Mrs. McKnight first came to the attention of the authorities when her husband told police that his wife had heard some startling revelations while working at the Frank residence the evening of the murder — namely, that Leo Frank had drunkenly and remorsefully admitted to his wife that he and a girl "had been caught" at the factory, that he "didn't know why he would murder" her, and that he asked his wife Lucille to get him a pistol so he could kill himself.

These are Minola McKnight's own words from the affidavit: "Sunday, Miss Lucille said to Mrs. Selig that Mr. Frank didn't rest so good Saturday night; she said he was drunk and wouldn't let her sleep with him… Miss Lucille said Sunday that Mr. Frank told her Saturday night that he was in trouble, and that he didn't know the reason why he would murder, and he told his wife to get his pistol and let him kill himself… When I left home to go to the solicitor general's office, they told me to mind how I talked. They pay me $3.50 a week, but last week they paid me $4.00, and one week she paid me $6.50. Up to the time of the murder I was getting $3.50 a week and the week right after the murder I don't remember how much she paid me, and the next week they paid me $3.50, and the next week they paid me $6.50, and the next week they paid me $4.00 and the next week they paid me $4.00. One week, I don't remember which one, Mrs. Selig gave me $5, but it wasn't for my work, and they didn't tell me what it was for, she just said, 'Here is $5, Minola.' I understood that it was a tip for me to keep quiet. They would tell me to mind how I talked and Miss Lucille gave me a hat."

(Leo Frank admitted that he bought a box of chocolates for his wife on the way home on the evening of the day of the murder.) Minola McKnight would tell a different story after she was back in the Frank household, however. She then repudiated her affidavit and said police had coerced it from her. But neither she nor anyone else has given a credible motive for Minola's husband to have lied. [???]

After Leo Frank's arrest, Lucille did not visit her husband for some thirteen days, after which she began her loyal and indomitable defense of him. What made her wait? Leo Frank's explanation was that Lucille had to be "physically restrained" because she wanted so badly to be locked up with him in jail. Judge for yourself the credibility of this explanation against that offered in State's Exhibit J.

Lucille Frank died in 1957, and in her will she specifically directed that she be cremated and thus not buried next to, or with, her first and only husband, Leo Frank — even though a plot had already been provided for her next to him.
Why would Leo Frank have felt compelled to kill himself? He must have understood that if he wanted to save himself the pain of a trial he could have just confessed and the state would have put him to death. I think it makes more sense that if he thought about killing himself, however briefly, it would have been to save his family, his tribe, his business from further disgrace. What he actually did choose to do was deny responsibility.
Leofrank.org has a lengthy page dedicated to Frank's wife: The Biography of Mrs. Lucille Selig Frank (Wednesday, February 29, 1888 – Tuesday, April 23, 1957), and Leo Frank Murder Confession Number Two of Four Known.
Lucille's father Emil Selig passed on to her his Ashkenazic/German surname, which means "blessed". Her mother, Josephine Cohen, had a Sephardic/canonic jewish surname, one designating the very jewiest of jews.
Lucille's maternal grandfather Levi Cohen was a religious pioneer who helped found the first synagogue in Georgia. Josephine was like most married women of privilege from good families, she was a pampered housewife with her very own daytime Negro mammy. The Selig family home-base benefited from the employment of 20 year old Magnolia "Minola" McKnight, who served as their daytime cook and maid for 2 years from 1911 to 1913. With Minola taking care of laundry, house cleaning, and cooking for the Selig's during her work days that began on most days at 6:30 a.m. and ended at 6:30 p.m., thus their really wasn't a whole lot else left to do around the house for Josephine and Lucille
Podcast: Play in new window | Download