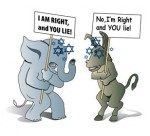 Concerning what everyone knows, or should know, about politics, the game of life, and the important role of lies and deception.
In France, where the terms originated, the Left has been called "the party of movement" and the Right "the party of order."[1][2][3][4] The intermediate stance is called centrism and a person with such a position is a moderate.
The terms "left" and "right" appeared during the French Revolution of 1789 when members of the National Assembly divided into supporters of the king to the president's right and supporters of the revolution to his left. One deputy, the Baron de Gauville explained, "We began to recognize each other: those who were loyal to religion and the king took up positions to the right of the chair so as to avoid the shouts, oaths, and indecencies that enjoyed free rein in the opposing camp." However the Right opposed the seating arrangement because they believed that deputies should support private or general interests but should not form factions or political parties.
The left/right duality seems baked into the White psyche. It springs, I think, from an Old European instinct for egalitarianism and Aryan instinct for hierarchy.
Rather than a synthesis of these essential instincts, producing an orderly movement forward, Whites are instead polarized and divided by jewish influence, resulting in a disorderly shuffle toward oblivion.
Podcast: Play in new window | Download