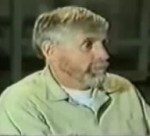 This month's special program comes from Black Sun Invictus. It will be broadcast each Wednesday, Friday, and Sunday starting at 9PM ET and streaming until the next scheduled program.
This program is doubly special to us at tWn. This month we mark the first anniversary of our operation, inspired and guided from the beginning by the spirit of David Lane's Fourteen Words.
Our mp3 audio file was transcoded and assembled from the following YouTube videos:
John Hardon writes:
David Lane stated his views can be best summarised by the 14 words, a term he coined: "We must secure the existence of our people and a future for White children." He held that view "because the beauty of the White Aryan woman must not perish from the earth."

Lane believed white people needed their own ethnostate to survive and stated,

"Today, in the year 2005, approximately two percent of earth's population is White female of child bearing age or younger… The remaining whites are hopelessly integrated, terrorised,brain washed, miscegenated and are rapidly being overrun by six billion coloureds."

A founding member of The Order, he died while serving a 190-year prison sentence in the Federal Correctional Complex in Terre Haute, Indiana.
In this interview Lane shares his thoughts on the Fourteen Words, the US government, genocide, treason, the jews, Bob Mathews, The Order/Brüder Schweigen, Aryan Nations and more.
The following is the transcript of the entire interview, as transcribed by Stormfront member Northern Bastion from one of the original VHS Cassettes. [PDF, via Solar General]
About one hour into the interview Vieira attempts to have Lane read aloud the Oath Of Der Bruder Schweigen. The sentiments are similar to what Bob Mathews expressed in his Call To Aryan Warriors (part of Internet Archive's Dr. William Pierce Audio Archive), which includes an introduction and context provided by William Pierce. At any rate Mathews' presentation to the National Alliance serves as a useful supplement to Lane's discussion with Vieira.
Note: Two anomalies in Part 3 have been repaired. The section from 0:00 to 4:37 was relocated to in its proper place at 9:42. The section from 4:37 to 5:07 was removed because it is a duplicate of 9:22 to 10:02 in Part 2.
The audio quality is relatively poor but we hope you will agree that it is well worth the effort to make out what Lane has to say. Length: 81 minutes.
Podcast: Play in new window | Download