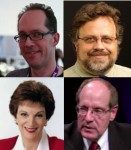 David Sirota twits:
The eerie way the history of violence repeats itself [links The Boston backlash is rooted in America's paranoid past]
The eerie repeating pattern is jews siding with the immigrant/alien Other while pathologizing and demonizing Whites for even recognizing there are Others. For example, see Sirota or the anti-White opinions he agrees with…
The Boston backlash is rooted in America's paranoid past, Salon.com, by Andrew O'Hehir, 27 Apr 2013:
I'm talking about the 1901 assassination of President William McKinley by an unemployed 28-year-old anarchist named Leon Czolgosz
Superficially, the America of McKinley's time – a nation of 76 million people dominated by an Anglo-Saxon Protestant elite, in which only a handful of nonwhites and women were even permitted to vote — has little in common with the America of Barack Obama. But the nativist paranoia about alien ideologies and alien religions remains strikingly familiar, as does the quest for "enemy combatants" behind every door and under every sofa. If you ask me, the real enemy combatants, now as in 1901, are right here at home, ready and willing to surrender our remaining rights and freedoms in the name of rooting out the supposedly imported virus of evil.

Over the last few days we've heard a lot of delirious right-wing chatter, very little of which has any direct relevance to the bizarre and painful case of the Tsarnaev brothers. Most obviously, the Tea Party troika of Rep. Michele Bachmann, Sen. Ted Cruz and Sen. Rand Paul seem determined to twist this story into a reason to persecute Muslims in general and derail immigration reform. (Of course, they want to do those things under any and all circumstances; Boston is merely a pretext.)
A few months before shooting McKinley, Czolgosz met the legendary Russian-born anarchist Emma Goldman at a speech she gave in Cleveland, where she reportedly said that she understood why anarchist revolutionaries turned to violence to overthrow despots, although she stopped short of endorsing it. Czolgosz told police later that her words had burned themselves into his brain.
But while he was on Death Row, Goldman wrote an eloquent and tormented essay called "The Tragedy at Buffalo" that compared Czolgosz to Brutus, the assassin of Julius Caesar, and praised his courage and daring without quite embracing his crime. (She somehow neglected to mention that she had met him at least twice.)

I don't believe I had ever read Goldman's essay before this week, but it strikes an oddly similar tone to the article I wrote for Salon last weekend, inquiring into the "massive and disheartening national freakout" that followed the Boston bombing.
Goldman was vilified on all sides for her undeniably peculiar defense of a man who was widely seen, even at the time, as a mentally unbalanced loner. But it's worth considering what she says about Leon Czolgosz when we think about the Tsarnaev brothers. Her essential point is that Czolgosz wasn't much of an anarchist but was definitely an American, "a child of Columbia," shaped by conditions of economic inequality in which "a small band of parasites have robbed the American people, and trampled upon the fundamental principles laid down by the forefathers of this country." He was nurtured, she suggests, on "a perverted conception of patriotism, and the fallacious notion that all are equal and that each one has the same opportunity to become a millionaire (provided he can steal the first hundred thousand dollars)." Realizing that all that was a lie, she says, essentially sent him around the bend.

If that critique sounds strikingly contemporary, so does Goldman's Dr. Phil-style amateur psychology. She describes Czolgosz as "a soul in pain, a soul that could find no abode in this cruel world of ours." That's ladling it on pretty thick, but we've already heard at least the elder Tsarnaev described in similar terms.
Czolgosz and the Tsarnaevs were dangerous enough, in their way. But not dangerous enough to destroy America. Only we can do that.
"We" who? O'Hehir pretends jews are "white" while regarding them as completely different. The Oscars' old, white, male problem, Salon.com, by Andrew O'Hehir, 21 Feb 2012:
It's worth noting, by the way, that the Times pointedly did not inquire into the religious or ethnic affiliations of the Academy's white members. I can't deny being curious about the question of how Jewish the Academy is these days, and you might be able to construct a non-offensive argument for why that's relevant information. But it's information that ugly people would use for ugly reasons, and you can't blame the reporters and editors involved for not jabbing a stick into that particular hornets' nest. (Internet comment threads on this topic are likely to be bad enough without raising the subject directly.) For the record, I suspect anti-Semitic conspiracy theorists might be a little disappointed. Of course it's true that Hollywood retains some of its traditional identity as an industry founded by Jewish immigrants at a time when other business ventures were closed to them.
Another might be to institute radical reforms, as suggested by 2001 best-actor winner and longtime member Denzel Washington: "If the country is 12 percent black, make the Academy 12 percent black. If the nation is 15 percent Hispanic, make the Academy 15 percent Hispanic."
Andrew Rosenthal, the New York Times' editorial page editor since January 2007, who oversees the editorial board, the letters and Op-Ed departments, and Sunday Review asks, What's the Difference Between McVeigh and Tsarnaev?, NYTimes.com, 22 Apr 2013:
The argument that we should treat Mr. Tsarnaev as an enemy combatant boils down to his religion and his ethnic origin. This is the kind of logic that led the United States to imprison Japanese-Americans during World War 2, and to far worse acts of ethnically and racially motivated violence in other countries.
More from Rosenthal, The Boston Bombing and Immigration, NYTimes.com, 26 Apr 2013:
And when did the United States start excluding immigrants from dangerous places? Seems to me that they fall into the categories of "huddled masses yearning to breathe free," not to mention "wretched refuse" of teeming shores and the "homeless, tempest-tossed."
Emma Lazarus, Wikipedia:
She is an important forerunner of the Zionist movement. She argued for the creation of a Jewish homeland thirteen years before Theodor Herzl began to use the term Zionism.
Mona Charen, Wikipedia:
Mona Charen is an American columnist and political analyst, and the author of two best-selling books, Useful Idiots: How Liberals Got it Wrong in the Cold War and Still Blame America First (2003) and Do-Gooders: How Liberals Hurt Those They Claim to Help (and the Rest of Us) (2005). She was also a weekly panelist on CNN's Capital Gang until its cancellation. Her political stance is conservative.[1] Charen usually writes about foreign policy, terrorism, politics, and culture. She regularly writes about her Jewish faith[2] and is also known for her generally pro-Israel views.
Charen served as Jack Kemp's speechwriter during his unsuccessful 1988 presidential bid.
The Hatred in the Heart of White America, by Mona Charen:
We Americans are not confused about the morality of what happened in Birmingham that September morning in 1963, nor during the Jim Crow era in America generally. We do not hesitate to condemn utterly the behavior and the beliefs of the Ku Klux Klan (the perpetrators of this bombing and others) and their white supremacist fellow travelers. We do not worry that reviling white supremacists and their grotesque deeds will somehow taint all white people.
Today, American liberals are obsessed not with terrorism but with the color and ethnicity of terrorists. They can readily enough attribute violent tendencies to groups they dislike — the tea party, for example, which hasn't committed so much as a littering offense. But when it comes to Islamic terrorism, their voices falter.
Boston's Mosques & Radical Ties – Radical Islam – Connecting The Clues – Wake Up America!!, FoxNews, posted 21 Apr 2013. The "expert" in this case is Charles Jacobs. He suggests viewers google muslims. Instead I googled him.
For ten years Jacobs' one-man "group" has been telling government officials how they can better defend "American" interests by promoting peace and tolerance for jews. Here's how he describes it:
Mission

Americans for Peace and Tolerance is a Boston-based 501(c)(3) non-profit organization dedicated to promoting peaceful coexistence in an ethnically diverse America by educating the American public about the need for a moderate political leadership that supports tolerance and core American values in communities across the nation.

About Us

Americans for Peace and Tolerance is a 501(c)(3) non-profit organization composed of concerned citizens, academics, and community activists. As Christians, Moslems, and Jews, we are united by the need to keep America hate-free. We believe peaceful coexistence among diverse ethnic populations is only possible if we promote a climate of tolerance and civil society.

Leadership

Americans for Peace and Tolerance is headed by Dr. Charles Jacobs, named by the Forward as one of America's top 50 Jewish leaders. Jacobs has founded and led several highly successful organizations characterized by groundbreaking ideas and initiatives.
Jacobs' disingenuous rhetoric for peace and tolerance is of a kind with the leftwing jewsmedia's disingenuous rhetoric against prejudice and discrimination.
The podcast will be broadcast and available for download on Tuesday at 9PM ET.
Podcast: Play in new window | Download