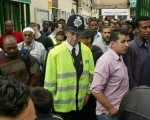 A survey of problems for Whites.
Who's White? Only advocates agonize over this. Critics don't.
The term "White problem" is most often misapplied to anti-White complaints about Whites.
The idea that Whites have any real problems is mocked.
First World Problems, Know Your Meme:
First World Problems, also known as "White Whine," are frustrations and complaints that are only experienced by privileged individuals in wealthy countries. It is typically used as a tongue-in-cheek comedic device to make light of trivial inconveniences.
First World Problems, Urban Dictionary:
Problems from living in a wealthy, industrialized nation that third worlders would probably roll their eyes at.
We have white people problems in America. That's what we have. White people problems. You know what that is? That's where your life is amazing, so you just make up shit to be upset about. People in other countries have real problems. Like "Oh shit, they're cutting all our heads off, today!" Things like that. Here, we make things up to be upset about. Like "How come I have to choose a language on the ATM. It's bullshit. I shouldn't have to do that. I'm American!
See also, White Whine – A Collection of First-World Problems. From the front page:
After suffering the indignity of the suburbs today to pick up a replacement iphone, I now must return to the suburbs tomorrow, as the replacement phone is broken.
So-called "White whines" are not even consciously voiced from a White point of view.
Contrast with Jewish Complaining and Jews Love to Argue, from Television Tropes and Idioms.
Non-Whites whine about microaggressions. Some examples of the various petty ways they feel offended or oppressed can be found at Microaggressions : Power, privilege and everyday life. A sample from the front page:
My close friend is Armenian, and her father has friends in the Armenian community in Watertown, much of which is located on Franklin. In these last 24 or so hours, one of his friends have received calls, threatening or yelling at him just for being Armenian.
These petty complaints are based upon a self-conscious identity as self-righteous diversity.
They are taken seriously, not mocked. Microaggression, Wikipedia:
Sue et al. (2007) describe microaggressions as, "brief and commonplace daily verbal, behavioral, or environmental indignities, whether intentional or unintentional, that communicate hostile, derogatory, or negative racial slights and insults toward people of color."
Microinvalidation – Characterized by communications that exclude, negate, or nullify the psychological thoughts, feelings, or experiential reality of a person.
White identity is excluded and invalidated by definition.
White Activism: More Harm than Good?, Racism is A White Problem:
It made me wonder if white people are MORE racist during their activist, anti-racist activities. The very act of trying to uproot racism, so seemingly central to white survival, can provoke a backlash within the white activist. And at the same time that this racism is showing up, the white person gets to feel like a good white person for being an activist. So, in the end, does it really help?
Schools and media are openly anti-White, antipathetic to Whites, engaging in anti-White indoctrination and anti-White propaganda.
Whiteness studies, Wikipedia:
A central tenet of whiteness studies is a reading of history and its effects on the present, inspired by postmodernism and historicism, in which the very concept of racial superiority is said to have been socially constructed in order to justify discrimination against non-whites.
Thomas K. Nakayama and Robert L. Krizek write about whiteness as a "strategic rhetoric," asserting that whiteness is a product of "discursive formation" and a "rhetorical construction" in the essay "Whiteness: A Strategic Rhetoric." Nakayama and Krizek write, "there is no 'true essence' to 'whiteness': there are only historically contingent constructions of that social location."
White privilege, Wikipedia:
The term denotes both obvious and less obvious unspoken advantages that white individuals may not recognize they have, which distinguishes it from overt bias or prejudice.[1] These include cultural affirmations of one's own worth; greater presumed social status; and freedom to move, buy, work, play, and speak freely.[2] The concept of white privilege also implies the right to assume the universality of one's own experiences, marking others as different or exceptional while perceiving oneself as normal.
The government is anti-White. Affirmative action, explicit preferences/favoritism for non-Whites. Rhetoric and programs promoting diversity, meaning less white, as good and right. Anti-discrimination principles in practice serve to protect non-Whites, not Whites.
Birth rates are below replacement rate in many White subpopulations.
Living spaces are being colonized, with Whites demographically swamped by non-Whites.
Whites don't identify positively as White.
Whites are too easily divided – whether by partisan politics, class, religion or by ethnic/national passions. Whites have the capacity to see the world in terms of Us and Them, but a strange preference to fight among ourselves rather than uniting against more alien Others.
Whites are too prone to self-criticism and guilt. Too gullible, too trusting, too easily misled. As a result, more likely to serve the interests of anyone but Whites.
Too tolerant, too nice, too concerned about being polite, prim, proper, not giving offense.
Few Whites are thinking about, much less addressing White problems.
The podcast will be broadcast and available for download on Tuesday at 9PM ET.
Podcast: Play in new window | Download