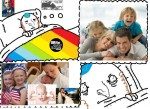 Expanding upon Segan and O'Hehir's Big Damning White Problems, tracking a disturbing pattern of "White problem" rhetoric.
Economy? What Economy?, Washington Post, 3 Sep 2008:
But the economy is not all; the GOP's last best hope remains identity politics. In a year when the Democrats have an African American presidential nominee, the Republicans now more than ever are the white folks' party, the party that delays the advent of our multicultural future, the party of the American past. Republican conventions have long been bastions of de facto Caucasian exclusivity, but coming right after the diversity of Denver, this year's GOP convention is almost shockingly — un-Americanly — white. Long term, this whiteness is a huge problem.
Identity politics is a weapon created by leftwing jews who view any form of White identity – no matter how weak, implicit, or even denied – as a "huge problem". Meyerson's ideal is an un-White America.
In September, 2009 Atlantic Monthly named Harold Meyerson one of 50 Most Influential Columnists. Calling its list "its all-star team," Atlantic Monthly's Top 50 are the most influential commentators in the nation – the columnists and bloggers and broadcast pundits who shape the national debates.
This anti-White view has been echoed by Debbie Wasserman-Schultz, jewess DNC chairwoman, during the 2012 election. From Decoding the Racial Political Discourse:
There is a reason that the Democratic Party is far more diverse than the Republican Party, because the natural home, politically on major issues to Hispanics, to women, to Jews, to Asian-Americans, the diverse spectrum — to African Americans.

The entire spectrum of diversity is comfortable in the Democratic Party because we stand up for the issues that matter to those communities and Republicans shun them.
Jews have two parties actively seeking to serve their interests, non-Whites have one, and Whites have none. Meanwhile, the judaized media narrative inverts reality, painting this situation as biased in favor of Whites.
From Problem, What Problem?, Ballet series has lots of talent, little diversity, Washington Post, Sarah Kaufman, Jun 2010:
The companies are also overwhelmingly white and dotted with Europeans — as they have always been. Diversity in ballet remains a serious problem for the small companies as well as the large, on the coasts as well as in the heartland. In the 21st century, we can put a black man in the White House, but as last week's survey shows, we can't put a black ballerina in the Opera House. Clearly, not enough work is being done to foster African American dancers.
"Too White" is another way anti-Whites describe their problems.
Vienna Philharmonic attacked for past Nazi ties, being too white, latimes.com, 3 Jan 2013:
Norman Lebrecht, who runs a widely read classical-music blog, wrote that the orchestra has no Asian or other non-white members, "even though one third of the students at Vienna's University of Music come from the Far East."
Iowa's Critics traces one manifestation of this idea that broke into the mainstream in Jan 2012.
Andrea Mitchell:
The rap on Iowa: it doesn't represent the rest of the country — too White, too evangelical, too rural.
The source of this rap was Arthur Gregg Sulzberger:
Too small, critics say. Too rural. Too white.
The critic was Stephen Bloom, who wrote Observations From 20 Years of Iowa Life:
I've lived in many places, lots of them foreign countries, but none has been more foreign to me than Iowa.
In a perfect world, no way would Iowa ever be considered representative of America, or even a small part of it. Iowa's not representative of much. There are few minorities, no sizable cities, and the state's about to lose one of its five seats in the U.S. House because its population is shifting; any growth is negligible. Still, thanks to a host of nonsensical political precedents, whoever wins the Iowa Caucuses in January will very likely have a 50 percent chance of being elected president 11 months later.
These ideas – "White problem"/"too White" – are being propagandized, repeated over and over to the masses by the thoroughly judaized corporate media. This demoralizes Whites and emboldens non-Whites. One way to counter such propaganda is to call it out for what it is: manipulative lies intended to create problems for Whites.
The podcast will be broadcast and available for download on Tuesday at 9PM ET.
Podcast: Play in new window | Download