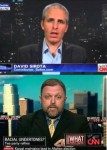 To properly evaluate jewish power requires an understanding of who is or isn't a jew.
Consider the case of Denis Goldberg and the cognitive dissonance of "white" jews with "white privilege" siding with blacks, as mentioned in Mandela and Friends.
Wikipedia asserts that Goldberg is "white", "white", "white":
he joined other leading white members in forming the Congress of Democrats
He was the only white member of Umkhonto we Sizwe to be arrested and sentenced in the Rivonia Trial to life imprisonment.
Goldberg described the issue of being white and involved with the armed struggle as follows: "Being black and involved (in the struggle) meant you had support of many people and it meant you got to be part of a community. Being white and involved meant being isolated."
The jews at Jewish Journal are more subtle. They equate Mandela to Moses and cite him mistaking jews as "white":
It was a liberal Jew, Lazar Sidelsky, who took an interest in a young Mandela, gave him his first job as a law clerk and, in Mandela's words, became his "first white friend."
"I found Jews to be more broadminded than most whites on issues of race and politics," Mandela once wrote, "perhaps because they themselves have historically been victims of prejudice."
Jews, who could have lives of white privilege in apartheid South Africa, aligned themselves with Mandela
Cognitive dissonance arises when the suggestion that jews are "white" is contradicted by jewish assertions that jews are distinct from and victims of Whites. Jews pose/pass as White and wreak havoc as insiders. They are motivated by a race-based animus for Whites.
Compare and contrast the jewish narrative concerning the "struggle against White minority rule" in South Africa with any opposition to non-White, and especially jewish, minorities. Whereas Whites tend to regard rule by minority, even a White minority, as illegitimate, jews paint any expression of White interests, even when it includes them as "white", as illegitimate.
Passing (sociology), via Wikipedia:
Passing is the ability of a person to be regarded as a member of social groups other than his or her own, such as a different race, ethnicity, caste, social class, gender, intelligence, age and/or disability status, generally with the purpose of gaining social acceptance [1] or to cope with difference anxiety. This may take the form of changing only one group from the person's own, such as a person's dressing so as to pretend to be of a higher social class.

Etymologically, the term is simply a clipped form of the phrasal verb pass for or pass as, as in a counterfeit passing for the genuine article or an impostor passing as another person. It has been in popular use since at least the late 1920s.
Passing is a form of fraud.
Crypsis, via Wikipedia:
In ecology, crypsis is the ability of an organism to avoid observation or detection by other organisms.
Camouflage and mimicry play a role.
Kevin MacDonald's Separation and Its Discontents (PDF), pp 218:
Chapter 6 – JEWISH STRATEGIES FOR COMBATING ANTI-SEMITISM

Phenotypic Resemblance: Crypsis
The data summarized in PTSDA (Ch. 4) indicate that there has been a powerful trend for Jews in traditional societies to maximize phenotypic differences between themselves and host populations, by a variety of segregative practices. Nevertheless, there are many instances in which Jews themselves have minimized these differences.

A particularly interesting example is crypsis. When threatened by severe sanctions, Jews have "converted" to other religions, practicing Judaism in secret and ultimately becoming overtly Jewish again when the threat had passed. Crypsis is "as old as the Jew himself" (Prinz 1973, 1).
The dual nature of jewish identity: some maximize differences in order to remain separate, others minimize differences in order to "assimilate", which in practice often means infiltrate and subvert.
Sirota and Wise Define The New Normal – "White Privilege" as a Jewish Construct describes how "assimilated" jews, posing and posturing as "whites", attack Whites.
Tim "White Like Me" Wise has made a career of anti-Whitism. His article on the Boston Bombing was Terrorism and Privilege: Understanding the Power of Whiteness:
White privilege is knowing that even if the Boston Marathon bomber turns out to be white, his or her identity will not result in white folks generally being singled out for suspicion by law enforcement, or the TSA, or the FBI.
In short, white privilege is the thing that allows you (if you're white) — and me — to view tragic events like this as merely horrific, and from the perspective of pure and innocent victims, rather than having to wonder, and to look over one's shoulder, and to ask even if only in hushed tones, whether those we pass on the street might think that somehow we were involved.
Wise expresses the guilty thoughts of someone who is passing – aware of their fraud and afraid of being outed.
Wise's hostility towards Whites spring from his identity as a jew. Gore-Vey! Joe Lieberman, Jewish Mobility and the Politics of Race in America, August 2000:
I am a Jew. And according to what others of my faith tradition tell me, I should be beaming with pride at the fact that Al Gore has picked a fellow Hebrew as his Vice Presidential running mate. Well, excuse me if I refrain
And our ascent has been every bit as contingent upon good fortune and the skin we're in, as anything beneath it like superior culture.

In fact, a good deal of our community's advance has come at the direct expense of black people, and would never have materialized in the absence of their oppression, coupled with a willingness by most Jews to undergo a transmogrification that, in effect allowed us to "become white"–something we could do by downplaying who and what we were, and hiding in our epidermal camouflage
For the sake of becoming American (and that had really meant to become white), one had to give up what one was, in order to metamorphose in Kafkaesque fashion into something one was not: a white man.

At the end of the day, even with the advantages that come with transformation, one has to wonder if it was a decent bargain: to trade your traditions and political-cultural soul for a permanent guest pass at someone else's club
Wise acknowledges that he sees a great distinction between Whites and jews, noting that jews must "transmogrify" (change or alter greatly, into a different shape or form, especially one that is fantastic or bizarre) to "become White".
David Sirota cited Wise when he wrote Let's hope the Boston Marathon bomber is a white American:
This has been most obvious in the context of recent mass shootings. In those awful episodes, a religious or ethnic minority group lacking such privilege would likely be collectively slandered and/or targeted with surveillance or profiling (or worse) if some of its individuals comprised most of the mass shooters. However, white male privilege means white men are not collectively denigrated/targeted for those shootings — even though most come at the hands of white dudes.
Sirota and Wise's description of "white privilege" inverts reality. See If Hasan Were White and Omar Thornton's "Anti-Racist" Killing Spree.
Sirota's attitudes are, like Wise, shaped by his identity "as a jew". Lanny, Joe & The Right-Wing Religious Hate Machine, August 2006:
As a Jew, I am disgusted by these tactics coming from Lieberman – but I am not surprised anymore. The willingness of Lieberman to simultaneously proclaim his piety while manipulating his religion for his own personal political gain is disgusting and, frankly, embarrassing to all Jews.
Sirota discussed his anti-White point about the Boston bombing with a tribemate in Shapiro responds to Sirota on Boston suspect article. The two jews agreed that the "white" in "white privilege" doesn't include jews:
David Sirota: You likely don't believe America is as nasty or xenophobic because you are white and you don't have to face it everyday. That's the definition of white privilege. But talk to people of color living in New York City about stop and frisk, or talk to Muslims about surveillance, or talk to Latinos here in Denver about police brutality, and you might see things a bit differently.

Ben Shapiro: Racism exists. But it is not the dominant force in American life.Speaking of which, I do find it odd that Jews are considered members of the white privileged class when less than two generations ago, whites wouldn't let us into their country clubs.

David Sirota: Re: Jews – as one, I agree on that point.
The Sirota Cries Out in Pain links another indication of how important Sirota's self-image as a jew is to him:
Out of all the hate mail I get, none is more depressing than the stuff that includes holocaust denialism. That's some f'd up repugnant shit.
Even the secular, assimilated, "white like me" jews like Sirota and Wise see jews as distinct from Whites. They guilt-trip Whites for "white privilege" and for being too discriminatory. The truth is the opposite. Jews are privileged and Whites, on the whole, fail to recognize that jews are their enemies.
The podcast will be broadcast and available for download on Tuesday at 9PM ET.
Podcast: Play in new window | Download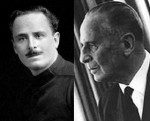 This month's special program comprises three audio tracks of Oswald Mosley. It will be broadcast each Wednesday, Friday, and Sunday starting at 9PM ET and streaming until the next scheduled program.
Oswald Mosley, via Metapedia:
Sir Oswald Ernald Mosley, 6th Baronet (November 16, 1896 – December 3, 1980) was a British politician and founder of several nationalist organizations, the most notable being British Union of Fascists and Union Movement. Educated at Winchester and Sandhurst he fought with the 16th Lancers on the Western Front during the First World War. He later transferred to the Royal Flying Corps but was invalided out of the war after a plane crash in 1916.
The first selection is Mosley Set to Music, via National-Socialist Worldview:
Sir Oswald Mosley (1896 -1980) was the leader of the British Union of Fascists, and a friend of National-Socialist Germany. (He was also an hereditary baronet and fourth cousin of the mother of Queen Elizabeth II.)

The Westminster Gazette in the 1920s called Mosley "the most polished literary speaker in the Commons, words flow from him in graceful epigrammatic phrases that have a sting in them for the government and the conservatives. To listen to him is an education in the English language, also in the art of delicate but deadly repartee. He has human sympathies, courage and brains."

The original message was recorded by Mosley (without musical backing) in 1938. The original text appears below. Notably omitted from the musical adaptation is Mosley's reference to the national-socialist and also every specific reference to Britain.
In this brief speech Mosley advocates a revolutionary spirit and calls for revolution by Britons.
The audio itself is blood axis – sarabande oratoria, on YouTube. The length is 4:05, including music.
The second selection is Oswald Mosley Speaks for European Unity, from YouTube. The length is 10:08. The audio is of relatively poor quality, including a few lengthy drop outs. The uploader's description:
Oswald Mosley Leader of Union Movement speaks for EUROPE A NATION in 1951.
At the start Mosley identifies his opponents:
I speak for Union Movement. We stand for a change in this country. For that reason we are either abused or boycotted by those who want to keep things as they are. The financiers, the vested interests and the old parties who serve them hate our movement and use their money power to destroy us. They control directly or indirectly the press, the cinema and the radio. That is why you hear nothing of union movement except silly abuse which has no relation to truth.
The third selection is Oswald Mosley – Make Europe A Nation 1964, from YouTube. The length is 44:29. The uploader's description:
Oswald Mosley gives a firey speech in 1964 about his vision for a united Europe. This speech was given some 18 months after the Venice Conference and his meeting with the heads of numerous European political parties which called for the formation of a National Party of Europe.
According to Metapedia, the National Party of Europe was created by the Declaration of Venice, an initiative undertaken by a number of political parties in Europe during the 1960s to help increase cross-border co-operation and work towards European unity. The idea of an NPE began when Oswald Mosley launched his Europe a Nation campaign after World War II.
More information about Mosley is available from oswaldmosley.com. Most notable is the special emphasis placed on Mosley's attitudes regarding jews. Near the top of the list of Top 10 Lies about Oswald Mosley:
2. Oswald Mosley and his supporters were anti-Semitic.

Oswald Mosley never criticised anybody for what they were born. But he didn't believe that Jews were the only people in the world immune from criticism. Oswald Mosley criticised some Jews for what they did, not all Jews for what they were. That's why Jews like John Beckett (British Union Director of Publications), Bill Leaper (Editor of the Blackshirt) and Harold Soref (later Tory M.P. for Ormskirk), and the Jewish boxer Kid Lewis had no problem supporting him.
This item links to an article titled Antisemitism – British Union and the Jews. It is without attribution and not dated, but presumably represents Mosley's position at some time after World War II. It begins:
More drivel is talked about the Jews than most subjects; both ways. The views that all Jews are born wicked, or that all Jews should be the sacred objects of the system, seems to me equal nonsense. I am neither an anti-Semite, nor a sycophant of Semites. The attitude of our movement has been both consistent and intelligible throughout. We have never attacked any man on account of race or religion, and we never shall. But we attack any man, whatever his race or religion, who acts against the interests of Britain or Europe; particularly Britons who ought to know better than to serve alien interests. It is a straightforward attitude, which has been formed by clear principles.

Why then have we been involved in clashes with Jewish interests, and why are so many Jews violently against us? The answers again are clear. Before the war I believed that certain great Jewish interests were trying to involve us in war, not in a British, but in a Jewish quarrel: I still believe it. The reasons for our belief and for the Jewish action are equally intelligible. It is true that a considerable number of Jews were having a bad time in Germany, and it can also be argued that if a similar number of Englishmen had been having an equally bad time in Germany, there would have been a demand among many Englishmen for war against Germany. But it is beyond question from the evidence of the period, that powerful Jewish interests were trying to produce war between Britain and Germany. They made it their business to start a war in the Jewish interest. I, and my friends, made it our business to stop that war, in British interest. That led to a head-on clash, and I still think that we were right in doing our utmost to prevent that war.

The issues between us, and those Jews before the war, were therefore quite simple and clear. They wanted to make a war, and we wanted to stop it. That is the long and the short of the whole matter. There was no question of racial persecution on our part. That was entirely contrary to our principles, which I put on public record at the time. We British were running a great Empire composed of many different races, and any suggestion of racial persecution would have broken it up. For practical, as well as moral reasons, it would have been the gravest error for us to pursue a policy of any kind of racial persecution. The Germans had entirely different national problems, as well as in some respects, a different national character, which was derived from a diversity of historic experience.

Our duty then, was to hold together and develop a multi-racial Empire.
This is doublethink. Mosley presented (and perhaps imagined) himself as neutral regarding jews, yet in the very act of doing so demonstrated a special regard for them and recognition of their special antagonism for himself and his movement.
Another example of Mosley's attitudes about jews is captured in the article William Buckley Interview, which took place four years after Mosley published his autobiography, My Life. The text of the interview is also available (in Microsoft Reader eBook format) via archive.org, which describes it as a transcript of the Firing Line television program broadcast on 9th April 1972.
Buckley's very first concern is to explore how Mosley's fascism relates to the jews.
MR. BUCKLEY: . . . I was instantly struck by the especially laudatory notices given to [the book] in England by members of the left; for instance, Mr. Michael Foot, who called the book, "a dazzling gleam across the whole century. What Mosley so valiantly stood for could have saved this country from the hungry Thirties and from the Second World War"; and from R. H. Crossman, intellectual leader of the Socialist party (laughter), or so he is regarded, "Mosley was spurned simply and solely because he was right." I think it would be instructive to explore the current and historical meaning of fascism, something we have yet to do on this program, and I want to begin with the understanding that we shall not devote anything like the entire program to it. By touching on racism and fascism, specifically on anti-Semitism and British fascism, I'd like to ask Sir Oswald: do you believe there is a nexus between the two ? anti-Semitism and fascism?

SIR OSWALD: No, none whatever. That was a purely German phenomenon and that really made the whole complication. Germany, of course, under Hitler, was definitely anti-Semitic. There's no doubt about that whatever — none whatever. That's all –

MR. BUCKLEY: You're not going to dispute that?

SIR OSWALD: – too painfully clear. But in the other countries where fascism occurred, in very different national forms, there was no question of it in the origin of the movement. Fascism was, essentially, a national creed — both its strength and its weakness – and, therefore, it took, in every country, a completely different form. And if you are running, as we hope to run, a multi-racial empire, you obviously cannot have a racialist policy. And the quarrel with certain Jewish interests, not with all, by any means, arose on quite different and much later questions.
As with Mosley's article regarding "anti-semitism", the substantial, very earnest expressions of deference to or concern for the best interests of jews collectively, as jews, contradicts the very idea that the jews can or should be treated as individuals.
This portion of the exchange is particularly cringe-worthy:
MR. BUCKLEY: Well, now, is it your point that a national minority, whether religious or racial, does not have the right to attempt to mobilize national energy to come to the rescue of a persecuted people in other parts of the world?

SIR OSWALD: I think he's absolutely, perfectly right in stating his opinion. Anybody should be allowed to state his opinion, but the answer must be allowed to be put. And my answer was that I was against a war with Germany, and I think most of the English were at that time. I quite understood why they were agitating in favour of a war, but the interest of the majority was against it and, therefore, I pointed out that certain Jewish interests were trying to produce a war, which was against the interests of Great Britain.

MR. BUCKLEY: Well, why would you say that it was their Jewishness that was a factor? Why wouldn't it simply be their humanitarianism? Why shouldn't a Jew say, "We have reason to believe that this madman in Germany is not only going to threaten the peace in Europe, but is also going to engage in large-scale genocidal ventures which have already been adumbrated, and it is the responsibility of a free and humanitarian people to do what they can to stop him"? Does this become Jewish sectarianism?

SIR OSWALD: No, you're perfectly right.
Buckley argues that jews are motivated to fight by their jewishness but also that it is the responsibility of "free and humanitarian people" to fight for them too.
The oxymoronic term "national minority" is indicative of this doublethink. In the context of nations and nationalism it is especially obvious that jews think of themselves as jews first and foremost, that jews are naturally distinct from every other nation and, because they are self-obsessed and parasitically bent on infiltration and manipulation of others, are ultimately hostile to everyone else's nationalism. From their own behavior it is clear that every member of the political elite understands this, more or less. Some, like Mosley, believe they can ignore or finesse this inconvenient fact. Others, like Buckley, explicitly embrace and defend and excuse jews for their hostility.
That non-jews behave so obsequiously with regard to jews – either minimizing their part or joining with them – is an indirect but telling measure of jewish power.
Mosley's autobiography is available as a PDF via nazi.org.uk. Kerry Bolton reviews Sir Oswald Mosley's My Life at Counter-Currents Publishing.
(Note: There is no audio download for this program – please tune in via the MP3 Stream.)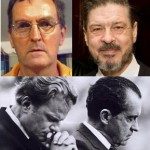 Double-talk and the dual nature of jewish identity fuels White doublethink – ignorance and denial of jewish power.
More from John Derbyshire's Be Nice, or We'll Crush You, 28 Feb 2007:
The place of Jews in modern American conservatism is a deep and fascinating story, with of course the conversion of the neocons at its center. You have to bear in mind the overwhelming dominance of Jews in every kind of leftist movement in the U.S. until about 30 years ago. Yuri Slezkine has the astonishing numbers. (Did you know that of the four student protesters shot by National Guardsmen at Kent State in 1970, three were Jewish? So says Slezkine, anyway. If you take four people at random from the U.S. population, the chance that three or more of them will be Jewish, given the most generous estimate of the proportion of Jews in the population, is worse than one in four thousand.)

In any case, it was a great achievement, and a great boost, for American conservatism to have peeled off a platoon of articulate, energetic intellectual heavyweights from the great socialistic mass of American Jewry.

Generally speaking—and I certainly include myself here—American conservatism is proud of its Jews, and glad to have them on board. Not that there aren't some frictions, particularly on mass immigration, the mere contemplation of which just seems to make Jews swoon with ecstasy (American Jews, at any rate. Israeli Jews have a different opinion…). MacDonald gives over a whole chapter of The Culture of Critique to the Jewish-American passion for mass immigration.
Derbyshire recognizes jews as distinct from Whites, and sees the "ecstasy" with which they push genocidal levels of immigration, yet he mischaracterizes this as suicide.
Joe Sobran, 'For Fear of the Jews', address at an IHR conference in 2002:
In my thirty years in journalism, nothing has amazed me more than the prevalent fear in the profession of offending Jews, especially Zionist Jews.

The fear of the label anti-Semitic is a fear of the power that is believed to lie behind it: Jewish power. Yet this is still pretty much unmentionable in journalism. It's rather as if sportswriters covering pro basketball were prohibited from mentioning that the Los Angeles Lakers were in first place.

There has been a qualitative change that is downright eerie in American conservatism generally. The "fear of the Jews," to use the phrase so often repeated in the Gospel according to John, seems to have wrought a reorientation of the tone, the very principles, of today's conservatism. The hardy skepticism, critical intelligence, and healthy irony of men like James Burnham, Willmoore Kendall, and the young Buckley have given way to the uncritical philo-Semitism of George Will, Cal Thomas, Rush Limbaugh, and of course the later Buckley — men who will go to any lengths, even absurd and dishonorable lengths, to avoid the terrorizing label anti-Semite.

It was once considered "anti-Semitic" to impute "dual loyalty" to Jews — that is, to assert that most American Jews divide their loyalty between the United States and Israel. This is now passé. Today most politicians assume, as a matter of course, that Israel commands the primary loyalty of Jewish voters. Are they accused of "anti-Semitism" for doing so? Does this assumption cost them Jewish votes? Not at all! Dual loyalty nothing! Dual loyalty would be an improvement!
At the very heart of the jewish problem is the historic ability jews exhibit in passing – as German, as White, as "us". It plays on the host society's capacity for both fear and love. As jewish power becomes more obvious and overtly hostile, their "allies" try to find ways to cope.
Stockholm syndrome, Wikipedia:
Stockholm syndrome, or capture–bonding, is a psychological phenomenon in which hostages express empathy and sympathy and have positive feelings toward their captors, sometimes to the point of defending them. These feelings are generally considered irrational in light of the danger or risk endured by the victims, who essentially mistake a lack of abuse from their captors for an act of kindness.
Battered-person syndrome is an example of activating the capture–bonding psychological mechanism
Symptoms of Stockholm Syndrome:
In order for Stockholm syndrome to occur in any given situation, at least three traits must be present:

A severely uneven power relationship in which the captor dictates what the prisoner can and cannot do
The threat of death or physical injury to the prisoner at the hands of the captor
A self-preservation instinct on the part of the prisoner

Included in these traits are the prisoner's belief (correct or incorrect, it doesn't matter) that he or she cannot escape, which means that survival must occur within the rules set by the all-powerful captor; and the prisoner's isolation from people not being held by the captors, which prohibits any outside view of the captors from infringing on the psychological processes that lead to Stockholm syndrome.
Four decades ago the most powerful Whites in America regarded jewish power as a threat and expressed their fear of it, privately.
Billy Graham Responds to Lingering Anger Over 1972 Remarks on Jews, New York Times, 2002:
"They're the ones putting out the pornographic stuff," Mr. Graham said on the tape, after agreeing with Mr. Nixon that left-wing Jews dominate the news media. The Jewish "stranglehold has got to be broken or the country's going down the drain," he continued, suggesting that if Mr. Nixon were re-elected, "then we might be able to do something."

Finally, Mr. Graham said that Jews did not know his true feelings about them.

"I go and I keep friends with Mr. Rosenthal at The New York Times and people of that sort, you know," he told Mr. Nixon, referring to A. M. Rosenthal, then the newspaper's executive editor. "And all — I mean, not all the Jews, but a lot of the Jews are great friends of mine, they swarm around me and are friendly to me because they know that I'm friendly with Israel. But they don't know how I really feel about what they are doing to this country. And I have no power, no way to handle them, but I would stand up if under proper circumstances."
Nixon, who became friends with Mr Graham in the 1950s during his time as vice president in the Eisenhower administration
There is a worldwide jewish conspiracy. Jews have power. It is based in part on the ignorance of the masses and in part on intimidation of the White elite. Both parts are deliberately cultivated by jews and their allies.
The podcast will be broadcast and available for download on Tuesday at 9PM ET.
Podcast: Play in new window | Download