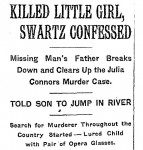 More on the asymmetry of "anti-semitism", the jews and violent crime, Nathan Swartz as a direct precedent for Leo Frank, and Jim Conley.
There is no equivalence between Whites and jews because there is no equivalence between hosts and parasites. Thus trying to hold a jew like Frank accountable for a crime is "anti-semitism". And recognizing that jews are coming to a jew's defense because they are jews is also "anti-semitism". "Anti-semitism", properly understood, is anti-parasitism.
Non-jews sometimes assume that jews must be paranoid to think that everyone is out to get them. Psychological projection gets closer to the truth. The jews imagine everyone around them has the kind of tribal/ethnic/racial loyalty they do and are as furtive about it as they are. Their complaints about "anti-semitism", as if it is some kind of cohesive anti-jewish sentiment, even when it obviously isn't, are a reflection of their own solidarity.
The asymmetry is especially obvious when jews complain about "anti-semitism" in people who obviously don't hate, oppose, or even seem to recognize the jews for what they are. Like the relatively racially aware Southern Whites who, at least until the spectacle the jews made of themselves during the Frank trial, respected and welcomeed the jews and regarded them as "white". Yet even before the Frank trial the jews saw themselves as separate and distinct.
More on Scott Aaron's Why I Write and comments quoted in 100 Reasons Leo Frank Is Guilty.
How to reconcile the jewish line on Frank:
Wrongly accused, Falsely convicted, Wantonly murdered.
with Aaron's description of how White Southerners viewed jews:
If anything, they were seen as an unusually industrious, intelligent, and law-abiding segment of society, even if they were a bit peculiar in their religious views.
The way to reconcile it is to recognize that Whites made a terrible mistake, they thought this supposedly industrious, intelligent, law-abiding segment of their "white" society was only peculiar because of religious views. They didn't realize that those "religious views" boiled down to a separate identity, hostile to Whites, which viewed Whites as a host, as the Other. Whites made the mistake of trusting jews, of thinking jews saw themselves as part of White society.
Jews, furthermore, were not known for violent acts or crimes, nor feared as violators of white women.
Indeed, jews aren't known for violent crimes commited on a whim, impulsively, and especially not in contrast with blacks. Jews are however known for intelligent, meticulous planning – the kind required for political violence and premeditated crime, especially in the context of a larger gain, to advance group interests.
The jewish crime syndicate known as Murder, Inc. provides a stark example of the jewish capacity for violence moderated by a cold, calculating sensitivity to group interests:
Probably their most well known victim was Dutch Schultz, who had openly defied the syndicate. In October 1935, Schultz insisted on putting a hit on Dewey, who was leading an all-out effort to put the mob out of business. The syndicate board overruled Schultz. They feared – with good reason – that Dewey's murder would incite public outrage and result in an even greater campaign to shut down the rackets. Schultz vowed that he would ignore the board's decision and kill Dewey himself.

The board decided they needed to act immediately to kill Schultz before he killed Dewey. Therefore in an ironic twist Buchalter actually saved Dewey's life, which allowed Dewey to continue his efforts to bring down Buchalter. This led Shapiro to suggest years later that Schultz should have been allowed to kill Dewey, although at the time he supported the syndicate's decision to overrule Schultz.
Another example comes from Russia. From STALIN'S WILLING EXECUTIONERS – JEWS AS A HOSTILE ELITE IN THE USSR, Kevin MacDonald's review of Yuri Slezkine's book The Jewish Century:
The Gulag was headed by ethnic Jews from its beginning in 1930 until the end of 1938, a period that encompasses the worst excesses of the Great Terror. They were, in Slezkine's words, "Stalin's willing executioners" (p. 103).
America's Jewish Enigma: Louis Marshall – Episode 81 covers The International Jew, Chapter 76, from The Dearborn Independent issue of 26 November 1921:
Louis Marshall has appeared in all the great Jewish cases.
The case of Leo Frank, a Jew, charged with the peculiarly vicious murder of a Georgia factory girl, was defended by Mr. Marshall. It was one of those cases where the whole world is whipped into excitement because a Jew is in trouble. It is almost an indication of the racial character of a culprit these days to note how much money is spent for him and how much fuss is raised concerning him. It seems to be a part of Jewish loyalty to prevent if possible the Gentile law being enforced against Jews. The Dreyfus case and the Frank case are examples of the endless publicity the Jews secure in behalf of their own people.
[Marshall] works on the principle that "the Jew can do no wrong."
Jewish publicity did to Georgia what it did to Russia ~ grossly misrepresented it, and so ceaselessy as to create a false impression generally.
When Russia fell, Louis Marshall hailed it with delight. The New York Times begins its story on March 19, 1917:

"Hailing the Russian upheaval as the greatest world event since the French Revolution, Louis Marshall in an interview for the New York Times last night said" ~ a number of things, among which was the statement that the events in Russia were no surprise. Of course they were not, the events being of Jewish origin, and Mr. Marshall being the recipient of the most intimate international news.

Even the new Russian revolutionary government made reports to Louis Marshall, as is shown by the dispatch printed in the New York Times of April 3, 1917, in which Baron Gunzburg reports what had been done to assure to the Jews the full advantage of the Russian upheaval.

This glorification of the Jewish overthrow of Russia, it must be remembered, occurred before the world knew what Bolshevism was
This TIJ account, it must be remembered, occurred before Stalin's willing executioners had even done their dirtiest work.
The murder of 12-year-old Julia Connors by a jew named Nathan Swartz in New York City in the summer of 1912 is a direct precedent. All but forgotten today, the crime was nationwide news at the time and no doubt still fresh in many minds when Leo Frank was accused of murdering Mary Phagan less than a year later.
The main difference is that Swartz confessed. He confided first in his father, who advised him to kill himself. Instead he got a change of clothes from his brother and absconded. Twelve days after the murder Swartz was found dead. He wrote notes admitting he had committed the murder, but denying he was responsibile.
A good summary of the case is provided in an article on SEXUAL CRIMES in Medical Art and Indianapolis Medical Journal, Volume 16, p402, published in January 1913:
Much present interest is attached to the recent brutal murder of little Julia Connors by Nathan Swartz. The details of this case are so fresh in the public mind through the secular press that a mere summary of the facts will suffice here.

At 5:30 p. m., on July 6, 1912, Swartz accidentally met Julia Connors, twelve years of age, but unusually well developed, a girl whom he did not know. Swartz accosted her and allowed her to look through an opera glass which he had in his hand. He lured her to flat occupied by his parents and their family. As soon as she passed the door he seized her by the throat, overpowered her, and threw her to the floor, when she became insensible. He then carried her to the roof and from there down a vacant flat in the adjoining house and into a bath room. In this flat he made about twenty jabs in her back with a knife, slashed her throat and forearms, and stabbed her in the heart. At about half past nine o'clock he thought the child was dead. He had stripped her, in his father's flat, of her clothing, except a "union suit." It was found that he had made forty-one rents in this garment with his knife. He then returned to his father's flat and procured a soap box, which he carried to the place of the murder. He crowded the girl and her clothing into this box, having cut off a great part of her hair.

The details of the finding of the girl the next morning barely alive, her death soon after, and the action of the police have no scientific importance.

The day after the murder and after the body had been found, Swartz, of his own accord, confessed the crime to his father. His father gave him $1.25 to buy a pistol and told him to kill himself and save the family further disgrace. Swartz then disappeared. On the morning of July 18th, twelve days after the murder, he was found dead in a lodging house, having committed suicide by inhaling illuminating gas. In an open letter, unsigned and unaddressed, the general contents of which seem perfectly rational, he wrote:

"I want to say that if I will happen to be revived in order to be executed, why, I will take that medicine just the same. * * * I'm sorry I done it, but I got crazy as I often do and you can't blame me nor any one."

On an old linen collar he wrote: "I am guilty, and am insane. It was caused by the beautiful makeup of women."
See also KILLED LITTLE GIRL, SWARTZ CONFESSED – Missing Man's Father Breaks Down and Clears Up the Julia Connors Murder Case. – Front Page – NYTimes.com, 17 July 1912.
Jews acknowledge that somebody must have killed Mary Phagan. If (as they insist) it wasn't Frank, then it must have been somebody else. Their preferred scapegoat is Jim Conley, the black sweeper at NPC.
100 Reasons Leo Frank Is Guilty | The American Mercury:
1. Only Leo Frank had the opportunity to be alone with Mary Phagan, and he admits he was alone with her in his office when she came to get her pay — and in fact he was completely alone with her on the second floor. Had Jim Conley been the killer, he would have had to attack her practically right at the entrance to the building where he sat almost all day, where people were constantly coming and going and where several witnesses noticed Conley, with no assurance of even a moment of privacy.
22. Jim Conley told police two obviously false narratives before finally breaking down and admitting that he was an accessory to Leo Frank in moving of the body of Mary Phagan and in authoring, at Frank's direction, the "death notes" found near the body in the basement. These notes, ostensibly from Mary Phagan but written in semi-literate Southern black dialect, seemed to point to the night watchman as the killer. To a rapt audience of investigators and factory officials, Conley re-enacted his and Frank's conversations and movements on the day of the killing. Investigators, and even some observers who were very skeptical at first, felt that Conley's detailed narrative had the ring of truth.

23. At trial, the leading — and most expensive — criminal defense lawyers in the state of Georgia could not trip up Jim Conley or shake him from his story.

24. Conley stated that Leo Frank sometimes employed him to watch the entrance to the factory while Frank "chatted" with teenage girl employees upstairs. Conley said that Frank admitted that he had accidentally killed Mary Phagan when she resisted his advances, and sought his help in the hiding of the body and in writing the black-dialect "death notes" that attempted to throw suspicion on the night watchman. Conley said he was supposed to come back later to burn Mary Phagan's body in return for $200, but fell asleep and did not return.

25. Blood spots were found exactly where Conley said that Mary Phagan's lifeless body was found by him in the second floor metal room. [In the podcast I incorrectly dismissed this point as redundant with 27. I note now that the two points refer to two different sets of blood spots. – Tanstaafl]

26. Hair that looked like Mary Phagan's was found on a Metal Room lathe immediately next to where Conley said he found her body, where she had apparently fallen after her altercation with Leo Frank.

27. Blood spots were found exactly where Conley says he dropped Mary Phagan's body while trying to move it. Conley could not have known this. If he was making up his story, this is a coincidence too fantastic to be accepted.

28. A piece of Mary Phagan's lacy underwear was looped around her neck, apparently in a clumsy attempt to hide the deeply indented marks of the rope which was used to strangle her. No murderer could possibly believe that detectives would be fooled for an instant by such a deception. But a murderer who needed another man's help for a few minutes in disposing of a body might indeed believe it would serve to briefly conceal the real nature of the crime from his assistant, perhaps being mistaken for a lace collar.

29. If Conley was the killer — and it had to be Conley or Frank — he moved the body of Mary Phagan by himself. The lacy loop around Mary Phagan's neck would serve absolutely no purpose in such a scenario.

30. The dragging marks on the basement floor, leading to where Mary Phagan's body was dumped near the furnace, began at the elevator — exactly matching Jim Conley's version of events.
Podcast: Play in new window | Download