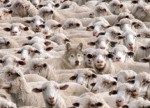 Is the problem in the White mind or in our genes? I think it's both, but the problem in our mind has arisen more recently and is more easily fixed. Whites aren't lacking in either competency or courage. What Whites lack is collective self-awareness, and without it we cannot have a proper sense of moral legitimacy rooted in our collective interests.
This lacking comes from a misunderstanding of life itself – that life is competitive, and in any competition groups trump individuals. Along with this misunderstanding comes the failure to recognize the Other, especially the jews. Also, a tendency toward group solipsism, or Eurocentrism, which manifests as a tendency to see and blame only or mostly ourselves, neglecting the competition from others, especially the jews.
And it is not enough to simply recognize the Other. Hugh Dorsey recognized the jews as a race separate and apart from his own, as good but no better, i.e. equal. This attitude, no doubt shared by many Southern Whites in 1913, represented a failure to recognize the jews for what they are, as hostile and harmful to the long-term survival of Whites, as the enemy.
This failure is part of a broader failure to recognize and associate the influence and actions of jews with the jews. This does not happen by chance. It is the result of very deliberate and persistent jewish effort. This is why control over media and education is important to the jews. Maintaining their blamelessness by always shifting the blame elsewhere is the whole point of the jewish narrative. The same end is also served by their crypsis, the various efforts they take to disguise themselves.
Henry Ford's The International Jew was a wonderful effort to address this failure – to explicitly identify jewish activities and influence and attach them to the jews. Even so, the tenor and tone was at times too concilliatory, or at least too diplomatic.
I consider the final chapter of TIJ, discussed by Carolyn Yeager and Hadding Scott in An Address to "Gentiles" on the Jewish Question – Episode 85, a case in point. It begins:
"Everywhere they wanted to remain Jews, and everywhere they were granted the privilege of establishing a State within a State. By virtue of these privileges and exemptions, and immunity from taxes, they would soon rise above the general condition of the citizens of the municipalities where they resided; they had better opportunities for trade and accumulation of wealth, whereby they excited jealousy and hatred."

— Lazare.
This is, in fact, a recurring pattern throughout history. The privileges don't just fall into their laps. They whine, bribe, extort, and otherwise lobby for those priviledges. The never stop seeking superior treatment. They mask their push behind the pretense that they and their proxies are uniquely under-privileged and seek only equality.
Bernard Lazare was an apologist for the jews. He could not conceive that the defrauded have no cause to envy their defrauders, or that fraud naturally results in hatred.
From an introduction to Lazare's notorious book, Antisemitism: Its History and Causes, 1894:
One will find Lazare's book cited at many anti-semitic websites and in in anti-semitic publications. The reason for this is that Lazare conducted a major reveiw of the history of anti-semitism and, to a very large decree, can be read as having put the blame on Jews themselves.

This, however, is a misreading of his work. From the way he is cited by anti-semites it may come as something of a surprise to note that Lazare, a journalist, was famous as the first defender of Captain Dreyfus – the first Drefusyard. Moreover, he was perhaps the first French Jewish intellectual to commit fully to Zionism as a political solution. Here are comments by Aron Rodrigue.

Bernard Lazare has interested commentators and historians not only for his contribution to the revision of the Dreyfus case but also for his distinction as the first French Jew to make the transition from an almost self-hating endorsement of total assimilation as a solution to the Jewish problem to a full embrace of the cause of Zionism.
In Chapter Ten: The Race Lazare expresses a typically jewish denial of race. Noting that "anti-semites" see the jews as racially distinct, he writes:
Race is, however, a fiction. No human group exists that can boast of having had two original ancestors and having descended from them without any adulteration of the primitive stock through mixture; human races are not pure, i.e., strictly speaking, there is no such thing as a race.
Denial of race is part and parcel of jewish crypsis.
Returning to TIJ:
An Address to "Gentiles" on the Jewish Problem

The heading of this article presents difficulties. The correct use of the term "Gentile" is in question. It is a name that has been given us, not by ourselves, but by Jews, and it is by no means certain that it is accurately given. A very great chance exists that it is not. That, however, is a matter which "gentiles" do not bother to understand; they think, of course, that if one is not a Jew one must be a gentile This is only another instance of the Jewish view being "put over" without the "gentile" understanding or even questioning it.

There is another difficulty: how shall one address "gentiles" collectively?
This scrutinization of "gentile"/jew is interesting to compare and contrast to "people of color"/White.
Podcast: Play in new window | Download