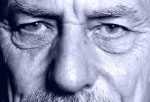 This month's special program is a reading of the momentous speech delivered by Enoch Powell at the Midland Hotel in Birmingham on 20 April 1968. It will be broadcast each Wednesday and Friday starting at 9PM ET, streaming continuously until the next scheduled program.
Though is has been described as "the most controversial speech in modern British history", there is apparently no complete recording available on the internet. A BBC documentary (1, 2, 3, 4, 5, 6), produced circa 2008, starts with a reporter, Reg Harcourt, describing how he was there with a camera team. The BBC documentary intersperses snippets of the black and white film of the speech with "anti-racist" spin attempting to explain that Powell was wrong.
Powell's speech serves as a reminder and lesson to Whites: However bad you may believe the situation is, or may yet become, you are likely underestimating. Looking back, we find many sober expressions of fear and foreboding such as Powell's. Always they are countered with the same fraud and trickery. What our enemies initially deride and dismiss as a stupid, crazy, or evil vision invariably metastasizes into an even more disgustingly degenerate reality, which they then celebrate.
Our program was transcoded from "Rivers of Blood" The Great Betrayal. Full speech., read and posted by Martin Willett. The description attached to the video reads:
Published on Oct 14, 2011

The 1968 speech given by Enoch Powell known as The Rivers of Blood speech. In full. No editing, cuts, omissions, spin, commentary, propaganda or tricky sound effects. Just the speech.

These are words written in 1968, and not by me. Don't shoot the messenger, just listen to the message and judge for yourself.

The FULL TEXT of this speech can be found here:

http://right2think.org/index.php/politics-main/68-rivers-of-blood-speech

If you want to debate this matter in depth join my debate forum:
Total runtime: 20:09
Podcast: Play in new window | Download