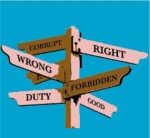 More along the same lines as the previous installments, Morals, Morality and Moralizing, and Universalism and Particularism. Part 3 of 2.
The essence of morality, as described by "Ben Tillman":
Morality exists to further self-interest, specifically the self-interest of groups. It furthers group interests by mediating the conflicting self-interests of group members to allow the group to function as a cooperative unit.
If we don't put our interests first, who will? How can we hope to survive?
Ben also urges us to read David Sloan Wilson.
Alongside professional jews Adam Gregerman and Chief Rabbi Lord Sacks we note Hillary Clinton's jew-centric moralizing. See The Anti-White/Pro-Jew Regime's Position on Genocide.
Compare and contrast with the weak, deracinated position Ann Coulter voices in DEMOCRATS' IDEAL VOTER: ILLEGAL ALIEN, SINGLE MOTHER, CONVICTED FELON:
While conservatives have been formulating carefully constructed arguments, liberals have been playing a long-term game to change the demographics of America to get an electorate more to their liking.

They will do incalculable damage to the nation and to individual citizens, but Democrats will have an unbeatable majority. Just like California, the United States is on its way to becoming a Third World, one-party state.
There's a strange asymmetry in how this matter can be discussed. Liberals and ethnic activists boast about how America would be better if it were more Latino, but no one else is allowed to say, "We like the ethnic mix as it is."

That would be racist. By now no one even tries to disagree.
Sure enough, the next day Coulter was condemned by the crypto-jewish SPLC. Ann Coulter: Loss of White Majority 'Destroyed' California:
That attack-dog author Ann Coulter is not too bright — and that she is perfectly happy to slime any and all people she doesn't like — is well known.

What's not such common knowledge is that she is a racist.
The podcast will be broadcast and available for download on Tuesday at 9PM ET.
Podcast: Play in new window | Download