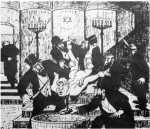 What morals are, what they're for, where they come from. Moral authority and moral outrage. The connection to story-telling, history, and politics. Who does what to whom for whose benefit?
I discuss Gabrielle Giffords, Sarah Palin and what Whites should understand about "blood libel".
The image comes from the "Zionism and Israel Encyclopedic Dictionary" entry for Blood Libel. I don't discuss this article, though it contains a typical jewish version of history, portraying jews as innocent victims:
Blood libels in the both the West and the East were generally occasions for large-scale persecution and judicial murders of Jews, as well as the basis for expulsions and pogroms. There have been about 150 cases of blood libel that were actually tried by Catholic authorities, and many other rumored cases that never came to trial.

The enduring nature of the blood libel is one of its most remarkable features. It was an invention of the pagans. It was revived and exploited in medieval Christian superstition, later promoted deliberately by the counter-reformation and the Inquisition, By the 19th century, much of the "old" anti-Semitism of the medieval period had passed from the world, but the libel persisted. It has been transplanted to the United States and the belief flourishes in Muslim countries as well. Investigations, instigations and enforcement had been transferred in part from the Roman Catholic Church to lay authorities: Tsarist police, Polish police and even New York State Troopers.

Various immediate political or other motivations are often attached to the accusations, such as desire to obtain Jewish property, but the libel could not succeed if large numbers of people did not believe it, and they do. The blood libel is not a thing of the past.
The most remarkable feature of the "blood libel" accusation is the way it inverts reality. The one common factor is jews, the accusors, who portray themselves as innocent victims of a far-flung, age-old conspiracy to falsely accuse them in order to take their property.
The "blood libel" story is an outstanding example of jewish guilt-tripping and moralizing. It is an outrageous libel against European peoples, with the effect if not intent of distracting attention from jewish malfeasance.
The podcast will be broadcast and available for download on Tuesday at 9PM ET.
Podcast: Play in new window | Download