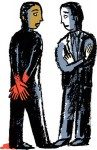 The subject of this installment is guilt-tripping:
when someone tries to make you feel guilty for thinking/feeling/doing things a certain way.

or

when someone tries to make you do whatever they want you to. so they start making you feel bad about something.. so then you'll give in and do whatever they want.
In particular I discuss race-based political guilt-tripping, citing a recent example in Cassandra Jackson's article, Why the War on Affordable Health Care is a War on Blacks and Latinos, published by the Huffington Post. Jackson writes:
As we wait for the Supreme Court to announce the fate of the Affordable Care Act, researchers at the Urban Institute's Health Policy Center have released a study that indicates that the Affordable Care Act will dramatically shrink racial and ethnic differences in health care coverage. Currently 21.6 percent of blacks and over 33.3 percent of Hispanics are uninsured, compared to just 13.9 percent of whites. According to researchers, Lisa Clemens-Cope, et al., if the Supreme Court upholds the Affordable Care Act, it could potentially cut the black-white differential in half, and the Hispanic-white differential by a quarter.

The fight for affordable health care is a fight for racial equality. Though many who have actively opposed the Affordable Care Act, would dismiss this assertion, the bottom line is that if the Supreme Court upholds the law, it will be a huge step toward dissolving fundamental racial inequities in health care. Historically access to health care has been so deeply shaped by institutionalized and practiced racism that federal health care law is the only means of systematically rectifying disparities.
According to a Greenlining Institute study, opposition to national health care policy can be traced to "racial resentment," or the belief by whites that blacks simply are not working hard enough and therefore do not deserve health care. This idea has been subtly interjected into anti-Affordable Care Act rhetoric. Remember claims that President Obama wanted to "pull the plug" on grandma so that hordes of uninsured people could step over her body to receive free health care? Who did you picture as the beloved grandma on life support when you heard this claim? It probably was not an old black lady.

Now after all this fear mongering, it seems that the Supreme Court holds the real power to pull the plug on the uninsured. If they strike down the law, it will impede the cause of racial equality. If they uphold the law, it could set us on a path toward health care as a fundamental human right. The law's implementation would be expected to be complete in 2014, the 60th anniversary of Brown v. Board of Education, which ruled that segregation in schools was unconstitutional. I can only hope that once again, the court will stand on the right side of history.
The Greenlining study Jackson refers to is described in an earlier HuffPo article, Surprising Way Race Colors Attitudes To Health Care Reform. It contains the usual non-surprises:
Opposition to the health care reform bill has sometimes been racially charged. In 2009, a swastika was painted on a sign outside the Smyrna, Ga., office of representative David Scott, D-Ga., who backed the bill, after a town hall meeting about an unrelated issue became a confrontation over health care reform.

"This kind of hate and racism is bubbling underneath the surface," Scott told the AJC at the time. "You hear these people say I want my country back, but from whom?" Scott told the paper. "They feel somebody has taken their country. What has happened to demonstrate that? I think it speaks for itself."
Back from whom? Well, the swastika is a hint.
Race-based guilt-tripping – "your people have oppressed my people forever, so you should feel guilty about that and give me what I want" – is a political tactic pioneered and perfected by the jews, whose use of it predates and supercedes all other groups who claim special privilege as victims of White oppression. More on this another time. Here I cite recent examples of jews using inversion of reality and guilt-tripping in their cries for war against Iran.
The image above is a corrected version of the reality-inverting original that was attached to an article by Ron Rosenbaum, published by Slate in May 2008, In Praise of Liberal Guilt – It's not wrong to favor Obama because of race.
Podcast: Play in new window | Download