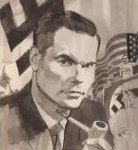 This month's special program comes from The Lost Recordings George Lincoln Rockwell Texas 1965. It will be broadcast each Wednesday, Friday, and Sunday starting at 9PM ET and streaming until the next scheduled program.
Ladies and gentlemen, the following is a talk by the late commander of the American Nazi Party, Mr. George Lincoln Rockwell. The occasion was in Dallas, Texas, in 1965, where approximately 75 prominent Dallas citizens accepted a personal invitation to gather at a private home to see and hear Mr. Rockwell.
Rockwell delivers a sober, plain-spoken overview of the racial and political situation in the United States circa 1965, and offers his grim analysis of why Whites had been losing to the jews for so long.
The only way, folks, that we can win, the only way we can stop the extermination of the White race, the White Christian people that built this country, on behalf of the jews and the niggers, there's only one way you can do it. You have got to win your people back.
The audio quality is garbled in the first minute or so, but clears up after that. Length: 107 minutes.
Podcast: Play in new window | Download