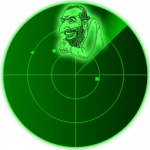 Jewish crypsis – the name game, the nosejobs, the hiding behind religion, the half-jews – are indications of parasitism.
Jewdar, or j-dar, is short for jewish radar – trying to determine if someone is or isn't a jew. It is akin to what the military calls IFF – "identification friend or foe". Jews use the term because they know better than anyone else that jews disguise themselves, but still have a strong interest in identifying their kin.
A comment on Steve Sailer's Nicholas Wade on Ashkenazi ancestry illustrates how even on "race-realist" forums, even on posts concerning the biological nature of jewishness, attempts are still made to deny that jews have any recognizable physical features, and that any attempt to do so is "crazy":
Anonymous said…

"Even so, you can often tell white Jews from other whites."

No, you can't. I've lived in New York my whole life and I can't tell Jews from non-Jews. (Excepting the ones in religious garb of course)

"Alan Dershowitz, Woody Allen, Noam Chomsky, Trotsky, Kafka, Carole King, the guy in SOCIAL NETWORK, Henry Jaglom, Roman Polanski, Bob Dylan, Streisand, Bette Midler, Elena Kagan, Ruth Ginzburg, Serge Gainsborough, Philip Roth, and etc. are recognizable as Jewish from a mile away."

No, they are not. In fact those people don't even look like one another! You know these people are Jewish and so you assign to them a physical commonality which does not exist.

The flip side of "pattern recognition" is "pattern imposition" – where the mind tries to see a pattern which is not there. You're engaging in pattern imposition, not pattern recognition.
Jewdar is a form of pattern recognition based on an evaluation of various bits of evidence. The denial and psychopathologization of such pattern recognition is part of jewish crypsis. Jews know very well that 1) jews disguise themselves and 2) there are ways to recognize them anyway. They also know that their interests aren't served by non-jews understanding any of this.
The Toronto Jewish Film Festival's J-DAR website makes a game of it. ABOUT TJFF:
We Jews have a reputation for making great films, and that's what the Toronto Jewish Film Festival is all about – great films. Movies that engage, thrill and make you laugh. Stories that are universal. No matter what your nationality, or religion. So grab a friend and some popcorn, and prepare to be entertained. After all, creating great films is what we do best.
HOW J-DAR WORKS explains how they rate a movie's jewishness by looking up the writer, director, producer, editor and cast in
a database that contains the names of pretty much every jew in Hollywood – give or take a jew. Plus, it analyzes your movie for jewish content too.
That "jewish content", often packaged in the moral of the story, is aimed at the unsuspecting subconscious of universalist-minded viewers.
Jews take their jewishness seriously. Making a joke of the interference their own crypsis causes them is one way of disguising it – even as they share tips on how to overcome the problem. For example, How to Jew: Activate your JEWDAR, at Schmooze Magazine:
Growing up, whenever my father would take me to a place that was known for being particularly WASP-y, he would whisper in my ear "Jew! Jew!" in imitation of the "Jew-alarm" our presence set off. While, to my knowledge, Jew-alarms do not actually exist, there are some more subtle ways of figuring out whether your friend's cute roommate is a member of the tribe.
The article lists several elementary sources of evidence for an effective jewdar: physical appearance, the name game, breeding grounds, and shared social experiences. Another good source of evidence is language, eg. words like "schmooze", expressions like "member of the tribe", and other jewish terms that jews use and recognize but often go right over goyishe kopfs.
Jon Carroll is one of those goyishe kopfs. He's up to his ears in jews but was surprised to learn about jewdar. He quickly understood that it's just a big joke, of course, but life-and-death serious too. The mystery of Jewdar:
So these thoughts were running around my brain – which was also telling me that three columns on gaydar might be just a bit much – when my editor, the fabulous Andrea Behr, said casually, "Then there's Jewdar."

Jewdar?

Now, it should be said that, for an Irish lad, I'm pretty darned Jewish. Both my daughters are Jewish, and so of course both their daughters are Jewish. I have sung at a bat mitzvah, and I was not nearly as bad as some would have expected. Also, it turns out, most of my best friends are Jewish. (I would have said "some of my best friends," but that's now a cliche meaning "I met a Jewish guy once on the golf course," which is not at all what I mean. English is so hard.) But I had never heard of Jewdar.
But – to return to the serious theme at the beginning of the column – there's a larger and more compelling reason for the development of Jewdar. There was a time in Europe – and there still is a time in other places right now – when being able to know friend from foe was literally a matter of life and death. It was hard, because Jews come from many places on the globe and look many different ways, speak many different languages, and sorting it all out takes an almost supernatural instinct.

Get it wrong, go to jail. It's like Monopoly, only with real people and the Gestapo.

It is not known how much of a role Jewdar played in the survival of those who did survive. Sometimes it might even be counterproductive: Oscar Schindler is an obvious example, but there were many others. Compassion is not limited by ethnic and cultural boundaries. But still, underneath all the joking, there's the reality of friend versus foe, and what to do in the absence of shibboleths.
Underneath all the joking, Carroll sides with the jews against Europeans.
Understanding Jewish Influence I: Background Traits for Jewish Activism, by Kevin MacDonald, provides a more sober and objective assessment of what's going on:
GST [Genetic Similarity Theory] has some important implications for understanding cooperation and cohesiveness among Jews. It predicts that people will be friendlier to other people who are genetically more similar to themselves. In the case of Jews and non-Jews, it predicts that Jews would be more likely to make friends and alliances with other Jews, and that there would be high levels of rapport and psychological satisfaction within these relationships.

GST explains the extraordinary rapport and cohesiveness among Jews. Since the vast majority of Jews are closely related genetically, GST predicts that they will be very attracted to other Jews and may even be able to recognize them in the absence of distinctive clothing and hair styles. There is anecdotal evidence for this statement. Theologian Eugene Borowitz writes that Jews seek each other out in social situations and feel "far more at home" after they have discovered who is Jewish.54 "Most Jews claim to be equipped with an interpersonal friend-or-foe sensing device that enables them to detect the presence of another Jew, despite heavy camouflage." Another Jewish writer comments on the incredible sense of oneness he has with other Jews and his ability to recognize other Jews in public places, a talent some Jews call "J-dar."55 While dining with his non-Jewish fiancée, he is immediately recognized as Jewish by some other Jews, and there is an immediate "bond of brotherhood" between them that excludes his non-Jewish companion.

Robert Reich, Clinton administration Secretary of Labor, wrote that in his first face-to-face meeting with Federal Reserve Board Chairman Alan Greenspan, "We have never met before, but I instantly know him. One look, one phrase, and I know where he grew up, how he grew up, where he got his drive and his sense of humor. He is New York. He is Jewish. He looks like my uncle Louis, his voice is my uncle Sam. I feel we've been together at countless weddings, bar mitzvahs, and funerals. I know his genetic structure. I'm certain that within the last five hundred years—perhaps even more recently—we shared the same ancestor."56 Reich is almost certainly correct: He and Greenspan do indeed have a recent common ancestor, and this genetic affinity causes them to have an almost supernatural attraction to each other. Or consider Sigmund Freud, who wrote that he found "the attraction of Judaism and of Jews so irresistible, many dark emotional powers, all the mightier the less they let themselves be grasped in words, as well as the clear consciousness of inner identity, the secrecy of the same mental construction."57

Any discussion of Judaism has to start and probably end with this incredibly strong bond that Jews have among each other—a bond that is created by their close genetic relationship and by the intensification of the psychological mechanisms underlying group cohesion. This powerful rapport among Jews translates into a heightened ability to cooperate in highly focused groups.
Crypsis, jewdar and parasitism are all related.
A recent article Occidental Observer article by Tobias Langdon, Verbal Venom: Biological Parallels for Western Pathologies, discusses the psychological mechanics of jewish parasitism:
Neuroparasitology is the study of how parasites manipulate the brains of their hosts. Parasitic wasps are experts at this manipulation. For example, some inject paralysing toxins with their stings and create living larders for their offspring. Mason wasps lay eggs on paralysed caterpillars, then seal them into brood-chambers made of mud. The caterpillars are then eaten alive by the larvae that hatch from the eggs.

Parasitic wasps induce this suicidal passivity with minute injections of neurotoxin, because tiny amounts of chemical can have huge effects on nervous systems.
Each species of parasite exploits some particular aspect of its host's biology. Wasps inject toxins that paralyse nerves; cuckoos lay camouflaged eggs that fool eyes and brains. But this raises a dangerous idea about Homo sapiens. It's clear from biology that predation and parasitism evolve quickly and easily among animals. All birds have a common ancestor, but some birds, like eagles and shrikes, now prey on their relatives, while others, like cuckoos and skuas, now parasitize their relatives. So why can't predation and parasitism have evolved among those animals known as human beings? Why can't there be predatory or parasitic ideologies, professions and even races?

One answer might be this: there can't be because that's a wicked thing to suggest – it's bigoted, hateful and racist.
My hypothesis, therefore, is that cultural Marxism is a language-based form of parasitism. But how might you go about proving this hypothesis? In the same way as you might prove that an animal has parasites. You don't have to detect the parasites directly — you can deduce their presence from their effects on an animal's metabolism
Pathogenicity, Wikipedia:
Virulence is, by MeSH definition, the degree of pathogenicity [the potential capacity of certain species of microbes to cause a disease] within a group or species of parasites as indicated by case fatality rates and/or the ability of the organism to invade the tissues of the host.
In an ecological context, virulence can be defined as the host's parasite-induced loss of fitness.
The term "virulent anti-semitism" is a typical jewish inversion of reality. Virulence is a characteristic of parasites, a measure of their ability to infiltrate and harm their hosts.
The podcast will be broadcast and available for download on Tuesday at 9PM ET.
Podcast: Play in new window | Download