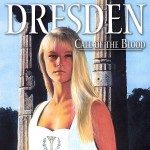 This month's special program is the music of Dresden. It will be broadcast each Wednesday, Friday and Sunday starting at 9PM ET streaming continuously until the next scheduled program.
The Legacy of Dr. William Pierce: Call of the Blood album reviewed (1995) has links to high-quality audio downloads, lyrics, and this brief review:
Dresden is Joseph Pryce and Knut Pedersen.

All songs by Joseph Pryce except Horst Wessell Song paraphrased by Joseph Pryce.

Dresden's new album, Call of the Blood, is a new kind of music for White people. Crafted with jewel-like care; with haunting, poetic lyrics; beautiful yet powerful arrangements and instrumentation; and soaring vocals; Call of the Blood combines the best elements of rock and traditional European music. Call of the Blood includes a lyric sheet to help you fully experience the impact of these new, masterfully written and produced songs. Call of the Blood will open a gateway in the minds of Aryan youth to a new and brighter future. – Kevin Alfred Strom
The Archives for Joseph Pryce at The Occidental Observer links three articles from 2010, including Jakob Friedrich Fries and the Intellectual Origins of Anti-Judaism in Europe. The author's bio reads:
Joseph Pryce (email him) is a writer, poet and translator. He is the author of the collection of mystical poems Mansions of Irkalla. Mr. Pryce was born in Brooklyn and studied for the Roman Catholic priesthood for three years (Redemptory's Order) and then attended Brooklyn College. He says for himself; "I was a musician for many years and recorded several CDs, but literature has always been my first love (especially poetry). I live with my wife, 30,000 books, and a dog and four cats on Long Island." His translation of the German philosopher Ludwig Klages' work will be published shortly by Arktos publishing company http://www.arktos.com/ [Ludwig Klages: The Biocentric Worldview].
Total runtime: 65:23
(Note: There is no audio download for this program – please tune in via the MP3 Stream.)