The Eleventh Hour
Chapter 11 Freedom: the illusion and the reality
• Education of the young
• Manhood and Womanhood
• Physical education and its importance for the youth
• Ethics of Social Services in a Nationalist State
• Birth rates
• The repeal of Abortion and (pro) Homosexuality legislation
The destructive role of C18 and it's allies. Spearhead – September 1995
Podcast: Play in new window | Download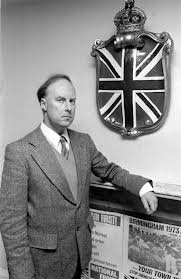 John Hutchyns Tyndall (14 July 1934 – 19 July 2005), was a British politician and patriotic activist, who came to lead the national liberation movement in the United Kingdom during the 1970s and 1980s. He is most noted for his leadership of the National Front and for founding and leading the British National Party, until the leadership passed to Nick Griffin.
During his tenure as leader of the new BNP, Tyndall did little to dispel the perception among some that the BNP was a neo-National Socialist organisation, and strongly resisted any attempts to soften the party's policies or image. Tyndall was convicted of incitement to racial hatred in 1986 and was jailed three times. During his time in prison he completed the part-autobiographical part-political book The Eleventh Hour (ISBN 0-9513686-2-1), which he subsequently revised several times.
Paul summarizes the '11th Hour' A call for British rebirth by John Tyndall.
John Tyndall's magazine http://www.spearhead.com/
Podcast: Play in new window | Download