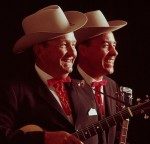 This month's special program is a hand-picked selection of classic bluegrass songs performed by Lester Flatt and Earl Scruggs. It will be broadcast each Wednesday, Friday, and Sunday starting at 9PM ET and streaming until the next scheduled program.
Probably the most famous bluegrass band of all time was Flatt and Scruggs and the Foggy Mountain Boys. They made the genre famous in ways that not even Bill Monroe, who pretty much invented the sound, ever could. Because of a guitar player and vocalist from Tennessee named Lester Flatt and an extraordinary banjo player from North Carolina named Earl Scruggs, bluegrass music has become popular the world over and has entered the mainstream in the world of music.

Like so many other bluegrass legends, Flatt and Scruggs were graduates of Bill Monroe's Blue Grass Boys. Because of the unique sound they added ("overdrive," one critic called it), Monroe felt let down after Flatt's quality vocals and Scruggs's banjo leads left in 1948. Quickly the two assembled a band that in the opinion of many was among the best ever, with Chubby Wise on fiddle and Cedric Rainwater on bass; a later band, with Paul Warren on fiddle and Josh Graves on dobro, was equally superb. With so many extraordinary musicians and the solid, controlled vocals of Flatt, it's no wonder the Foggy Mountain Boys was the band that brought bluegrass to international prominence. From 1948 until 1969, when Flatt and Scruggs split up to pursue different musical directions, they were the bluegrass band, due to their Martha White Flour segment at the Opry and, especially, their tremendous exposure from TV and movies.
More about the Foggy Mountain Boys.
(Note: There is no audio download for this program – please tune in via the MP3 Stream.)