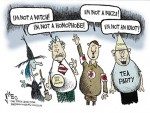 This is an extension of the topics discussed previously in Guilt-Tripping and The Litany of White Sins.
Stupid/crazy/evil is one tactic used against Whites who have gotten beyond the guilt-tripping, or were never affected by it to begin with. You're White and not paralyzed with guilt? Well then, you must be a stupid/crazy/evil racist-KKK-nazi!
As with guilt-tripping, stupid/crazy/evil is a form of psychological aggression against Whites. It is a progression of escalating hostility that starts with ridiculing and pathologizing Whites as mentally defective, and ultimately leads to demonizing Whites as morally defective.
Podcast: Play in new window | Download