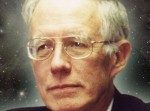 This month's special program is a selection of recordings of Dr. William Luther Pierce. It will be broadcast each Wednesday, Friday, and Sunday starting at 9PM ET and streaming until the next scheduled program.
From the William Luther Pierce page at Metapedia:
Dr William Luther Pierce III (September 11, 1933 – July 23, 2002) was the leader of the White survival organization the National Alliance and a principal ideologue of the white nationalist movement. First educated as a physicist, he later worked with George Lincoln Rockwell, the founder of the American Nazi Party. Pierce became well known as the author of a novel, The Turner Diaries (1978), written under the pseudonym Andrew Macdonald. He founded the religion of Cosmotheism, an admixture of panentheism, and promoted White nationalism, and White survival world-views.
These recordings are a small sample taken from the Dr. William Pierce Audio Archive at Internet Archive, which has over 300 audio files available for download.
For more information see also The Legacy of Dr. William Pierce.
Pierce-19770313 – Human Dignity – A Racial Ethic, 17:32
Pierce-19960420 – Men of Valor, 23:12
Pierce-19970301 – The Jewish Problem, 21:47
Pierce-19970802 – The Psychology of Political Correctness, 23:35
Pierce-19980711 – Thinking about a White Future, 22:38
Pierce-20020413 – Tiptoeing around Our Problems, 23:22
Total run time: 2:12:06
(Note: There is no audio download for this program – please tune in via the MP3 Stream.)