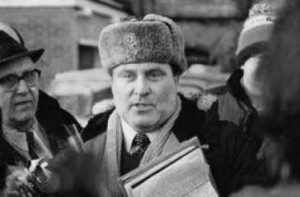 In the third program of An Hour by the Window, August discusses some aspects of the field of revisionism.   He holds that revisionism's principal antagonists can be divided into roughly two camps: Those that fall within the mainstream academic establishment and those that emerge within our own movement.   He cites two examples, respectively, of each.  Michael Shermer, Holocaust historian, embodies the former.  Author Greg Johnson, a White nationalist, embodies the latter.  Both fundamentally oppose Holocaust revisionism, but do so from very different points of view.  The pro-establishment view rejects revisionism as pseudoscience, and the White nationalist rejection of revisionism rejects the revisionist enterprise as irrelevant to our cause.
In the course of this program, August brings up other issues:
Michael Shermer's essay, The New Revisionism, as an example of how those who critique revisionism have political motives of their own.
Comparisons made by anti-revisionists between revisionism and creationism, which Shermer has himself done numerous times.
The reduction of some criticisms of revisionism to a "fringe group".
The pseudoscientific underpinnings of some anti-revionists, like Shermer, and the anti-scientific basis of their race-denial.
Discussion of Greg Johnson's essay at The Occidental Observer entitled "Dealing with the Holocaust", and his "Holocaust enough" claim.
Reference to recent talks and writings, such as Carolyn Yeager's writings and in Thomas Dalton's Nationalism and the Holocaust: A Reply to Johnson.
Image: Ernst Zündel leaving prison in 1985.
Email: worldswomb AT gmail DOT com

Podcast: Play in new window | Download
[CONTENT REDACTED BY REQUEST OF THE AUTHOR]